Etsy Inc. ETSY just released its third quarter fiscal 2017 financial results, posting earnings of 21 cents per share and revenues of $106.4 million. Currently, ETSY is a Zacks Rank #2 (Buy), and is up 4.5% to $17.92 per share in trading shortly after its earnings report was released.
Etsy:
Beat earnings estimates. The craft-focused e-commerce platform posted diluted earnings of 21 cents per share, soaring past the Zacks Consensus Estimate of 5 cents per share. Net income was $25.8 million for the quarter.
Beat revenue estimates. The company saw revenue figures of $106.4 million, surpassing our consensus estimate of $104.59 million and growing 21.5% year-over-year. This was driven by growth in both Markets and Seller Services revenue.
Markets revenue grew 11.2% year-over-year, driven by growth in transaction fee revenue and, to a lesser extent, growth in listing fee revenue. Seller Services revenue grew 30.6% year-over-year, driven mostly by revenue growth in Etsy Payments and Promoted Listings.
Etsy aid that active sellers grew 10.8% year-over-year, while active buyers increased 16.7% from the prior-year period.
Reported gross merchandise sales (GMS) of $766.4 million for the third quarter, up 13.2%.
"In the third quarter, we executed on our strategic initiatives, accelerated GMS and revenue growth and achieved our highest ever Adjusted EBITDA margin since becoming a publicly-traded company," said Josh Silverman, Etsy, Inc. CEO. "We will continue to make progress on our strategy to own 'special' shopping occasions by delivering a more engaging experience for our buyers, and providing our sellers with the tools they need to compete."
"Looking ahead, we believe our sharpened focus will enable us to build on our momentum, support our sellers throughout the holiday season, and advance our new mission to keep commerce human," Silverman continued.
Here's a graph that looks Etsy's price, consensus, and EPS surprise:
Etsy, Inc. Price, Consensus and EPS Surprise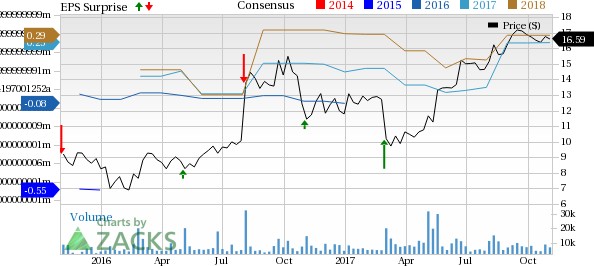 Etsy, Inc. Price, Consensus and EPS Surprise | Etsy, Inc. Quote
Etsy, Inc. offers e-commerce services. It provides online and offline marketplaces to buy and sell goods. The company's product include art, home and living, mobile accessories, jewelry, wedding, and others. It operates primarily in Berlin, Germany, Dublin, Ireland, Hudson, New York, London, United Kingdom, Melbourne, Australia, Paris, France, San Francisco, California and Toronto, Canada. Etsy, Inc. is headquartered in Brooklyn, New York.
Wall Street's Next Amazon

Zacks EVP Kevin Matras believes this familiar stock has only just begun its climb to become one of the greatest investments of all time. It's a once-in-a-generation opportunity to invest in pure genius. Click for details >>
Want the latest recommendations from Zacks Investment Research? Today, you can download 7 Best Stocks for the Next 30 Days.
Click to get this free report
Etsy, Inc. (ETSY): Free Stock Analysis Report
To read this article on Zacks.com click here.
Zacks Investment Research