In an attack that bears some of the hallmarks of terror attacks that have unfolded in the UK, Spain and France, a box truck veered into the West Side Highway bike lane Tuesday afternoon and mowed down cyclists and pedestrians, leaving two dead and at least eight injured. The scene is near Hudson Street and Chambers Street. The as-yet-unidentified suspect has reportedly been taken into custody, according to the New York Post.
It was unclear if this was an act of terrorism. NBC is reporting that shots were fired at the scene, but it's unclear if those shots were fired by police responding to the incident, the attack, or, as one twitter user reported, a cab driver.
Grisly video taken at the scene shows the aftermath of the attack:
Police shut down the FDR to rush victims to Bellevue Hospital. The West Side Highway has been closed from 20th street down.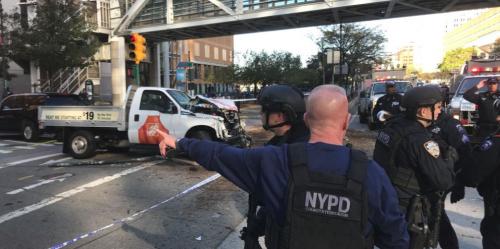 "I saw a truck - a white pick-up truck - going down the bicycle lane and running people over," one witness told CBS.
Hi, I work on chambers street. Shots came from Chambers and West Street. Someone who was eyewitness said cab driver fired shots

— Mike (@el_dorado91)

https://twitter.com/el_dorado91/status/925442019874439168?ref_src=twsrc%5Etfw
NYPD has confirmed that the suspect is in custody.
Currently there is one person in custody. No others outstanding. All information is preliminary as the investigation is ongoing. pic.twitter.com/nsaUgZ8MJH

— NYPD NEWS (@NYPDnews)

https://twitter.com/NYPDnews/status/925446084574498818?ref_src=twsrc%5Etfw
Video from NBC shows the blocked-off West Side Highway. Mayor Bill DeBlasio is on his way to the scene.
Video shows blocked off West Side Highway in New York City after incident in lower Manhattan pic.twitter.com/BxuiKtlx4N

— NBC News (@NBCNews)

https://twitter.com/NBCNews/status/925451913608531968?ref_src=twsrc%5Etfw