Submitted by Bill Bonner via The Acting-Man blog,
Corporate Insiders Jump Ship
Corporate insiders are selling 22 times more stock than they are buying. From Fox Business:
"What we're seeing now is a dramatic reversal in that sentiment," says David Coleman, editor of Vickers Weekly Insider Report, whose firm tracks buying and selling of all publicly traded companies. "The trend has reversed from what had been historically high levels of buying relative to selling."

 

[…]

 

TrimTabs Investment Research reports that insiders at public companies have sold $2.6 billion worth of shares so far in June. That's 22 times more than the $120 million in stock they have bought. […] TrimTabs's 60-day total of insider buying has fallen to the lowest level since December 2004."
What do corporate insiders see coming?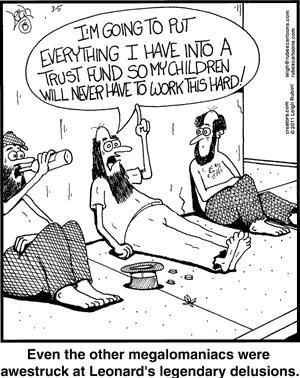 From Bloomberg:
"Last week's news of the weakest hiring since December 2013 rounded off a quarter in which retail sales and capital goods orders all pointed to a first quarter flop. That leaves JPMorgan Chase & Co. estimating growth was just 0.6%."
Zero point six percent is optimistic. Our friend and economist Richard Duncan puts the first-quarter growth figure at 0.1%. He says the US economy may already be in recession.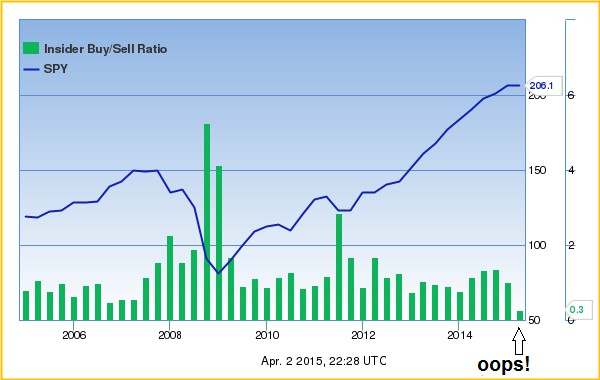 SPX only insider buy/sell ratio – as can be seen, insiders like to buy big corrections. They are singularly disinclined to buy right now.
A Delusional Market
We'll wait to find out. But it's not as though we have to hold our breath. A stock market sell-off and a recession are coming. They always do. Not every day at the beach is going to be sunny and bright. Even in California, it's got to rain sometime.
Market corrections are even more certain. People make mistakes. They pay too much. They buy the wrong things. Profits go down. Businesses go broke. Stuff happens. What kind of world would it be otherwise?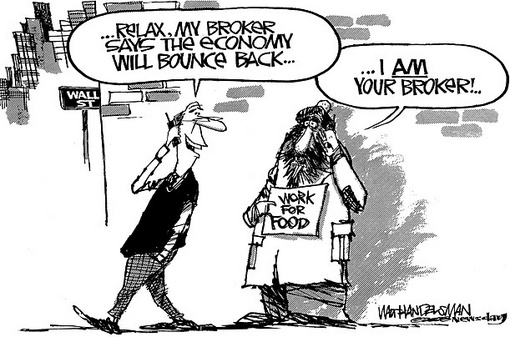 Imagine if bad restaurants never went out of business … worthless smart phone app makers never went bust … every girl was homecoming queen … and every war was won – by both sides.
Cartoon by: Walt Handelsman
We'll leave it to you to think about that in the dark of night. For our money, we'll assume that things will not always work out as planned. We will bet, too, that a stock market that is worth more relative to GDP than at any point in history bar the dot-com bubble is suitable only to delusional stockbrokers.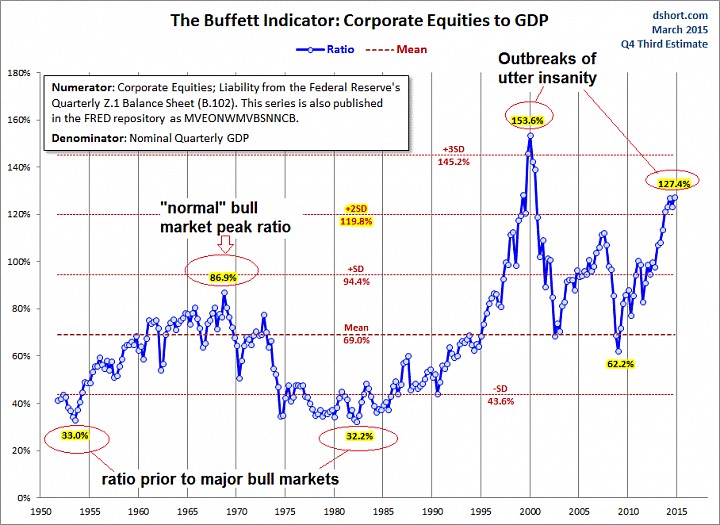 Market cap to GDP – prior to major bull markets, it tends to be in the low 30s – normal bull market peaks tended to be recorded in the 80s. Since the late 1990s, insanity has been the order of the day. Most of us don't realize it, because we have become inured to it. But it is still insane – click to enlarge.