Goldman Sachs Group Inc. has been hiring aggressively to combat its dramatic slump in trading revenue. But given that those traders probably won't be joining the bank for anywhere between three and six months on account of gardening leave -- the paid time employers typically provide to prevent bankers from immediately working for a rival -- they won't be able to do much to improve the situation for a while.
How bad is it? One key metric, revealed in Goldman's most recent quarterly filing, highlights where things have gone sour. During the three months ended Sept. 30, the Lloyd Blankfein-led bank had zerostandout days -- defined as days when trading revenue exceeded $100 million in the quarter -- versus an average of 6 to 7 such days per quarter dating back through the beginning of 2013.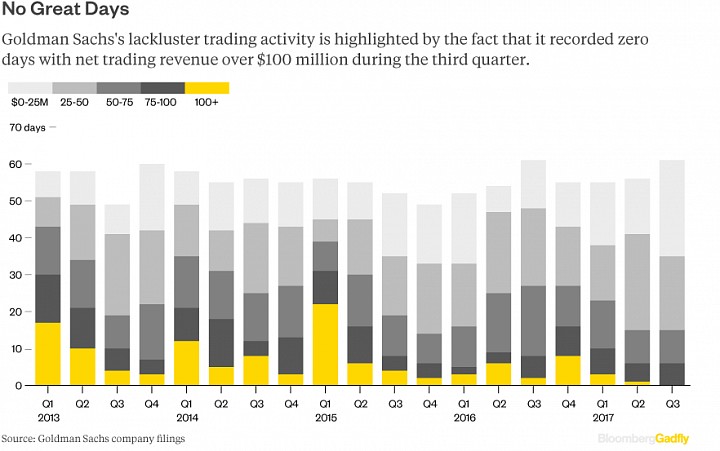 Notably, while Goldman's trading lull has taken a bite out of revenue, less risk-taking by its clients also resulted in fewer days where the firm's trading arm posted a loss.
Goldman isn't the only shop on Wall Street that is hurting. Low volatility has caused muted results across the board, especially compared to the third quarter of 2016, which included the days following the Brexit vote and the lead-up to the U.S. presidential election. Morgan Stanley's trading business, which has gained ground on its rival, also had fewer standout days -- and its definition of peak activity is easier to achieve. Its average of such days, at between 5 and 6, is also lower than Goldman's.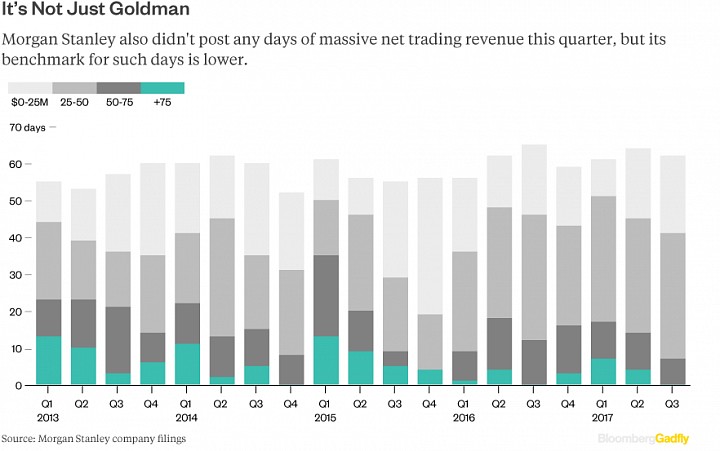 For Goldman, it's a bigger problem because it has an outsize reliance on trading compared to every major bank, including Morgan Stanley. Its struggles to replace lost revenue from this business has fed what my colleague Stephen Gandel and others have labeled as an identity crisis.
For now at least, it's too soon to know whether its plans to generate $5 billion in additional revenue through 2020, revealed in September, will come to fruition. It's also far too early to know whether Stephanie Cohen, the new head of strategy appointed Monday, will be successful in steering the bank toward its growth objectives.
Still, shareholders can grasp onto at least one positive: Unlike some firms, Goldman's core business of advising on mergers and acquisitions continues to pull its weight. The latest example? The bank was appointed as one of Qualcomm Inc.'s advisers (alongside Evercore Inc.) to help the chipmaker fend off a hostile bid from Broadcom Ltd. Whether or not the deal proceeds, the duo may still earn the entirety of their estimated fee of between $120 million and $145 million, Bloomberg News reported earlier.
That mandate alone can't make up for the absence of six to seven stellar trading days per quarter. But after the dip in trading activity and given its uninspired M&A transaction backlog, the high-profile role helps.
--With graphics assistance from Jeremy Diamond
This column does not necessarily reflect the opinion of Bloomberg LP and its owners.
To contact the author of this story:
Gillian Tan in New York at gtan129@bloomberg.net
More