The market has entered its first pronounced correction mode in quite some time. This is especially true in our favorite sector biotech. Hillary Clinton gave the market the reason they needed to finally take some profits and when the selling started it quickly gained momentum resulting in dramatic declines in averages and previous sector leaders. This is a perfect example of the market's tendency to overshoot on the up and downside in the short term. It is also the primary reason investors should keep some cash on hand to take advantage of this type of volatility, by buying into the best companies when selling is exaggerated. There's an element of indiscriminate frenzy in a market that's selling off, inevitably resulting in some attractive buying opportunities during those down moves. Here are two companies I recommend purchasing in anticipation of an eventual market recovery. I don't believe interest rates are headed higher anytime soon, and there is a nice wall of worry to climb right now, so after the fall I am quite confident in adopting a bullish near-term stance.

This recent IPO caught my attention after a recent decline in the stock was greeted with some insider buying. I am especially encouraged by the involvement of top hedge fund manager Dan Loeb. Apigee is a software company that enables customers to easily integrate functions into their mobile applications (APPS) while maximizing performance and enabling predictive analytics. A successful App allows customers to access a variety of information from different sources. For example, a review site like Yelp (NYSE:YELP) that wants a user to integrate reading a restaurant review with making a reservation, ordering food and locating either the restaurant or the location of the order with GPS, would be able to do so easily using Apigee's platform, thereby adding functionality to apps and enhancing user experience. Managing and developing robust apps is critical to success in the digital economy and Apigee has emerged as a leader in this space with customers that include many of the world's biggest companies.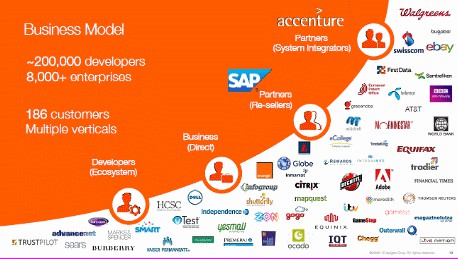 While the company is not yet profitable, revenues are projected to continue to grow at a greater than 30% clip and it has a strong balance sheet with $90...
More