Celgene Corporation CELG is scheduled to report second-quarter 2017 results on Jul 27, before the opening bell. Last quarter, the company beat expectations by 4.08%.

Celgene has outperformed the Zacksclassified industry in the year so far. The stock has gained 19% during this period against the industry's11.8% gain.
Celgene's track record has been pretty decent with the company beating earnings estimates thrice in the trailing four quarters. Overall, the company has delivered an average positive surprise of 3.01%.
Let's see how things are shaping up at the company ahead of this announcement.
Earnings Whispers
Our proven model shows that Celgene is likely to beat on earnings estimates this quarter. This is because it has the right combination of two key ingredients, a positive http://www.zacks.com/earnings/earnings-surprise-predictions/">Earnings ESP and a Zacks Rank #1 (Strong Buy), 2 (Buy) or 3 (Hold).
Zacks ESP: The Earnings ESP, which represents the difference between the Most Accurate estimate and the Zacks Consensus Estimate, is +0.62%. This is because the Most Accurate estimate is $1.62 while the Zacks Consensus Estimate is pegged lower at $1.61. You can uncover the best stocks to buy or sell before they're reported with our Earnings ESP Filter.
Zacks Rank: Celgene currently carries a Zacks Rank #3. The combination of Zacks Rank #3 and a positive ESP makes us confident of an earnings beat.
Conversely, Sell-rated stocks (Zacks Rank #4 or 5) should never be considered going into an earnings announcement, especially when the company is seeing negative estimate revisions.
Factors at Play
Concurrent with the first-quarter earnings results, Celgene updated its outlook for 2017. The company now expects earnings around $7.15–$7.30 compared to the earlier forecast of $7.10–$7.25 per share. Net product sales are expected around $13.0–$13.4 billion.
Celgene's key product, Revlimid, should continue to be the main growth driver as in the first quarter, driven by share gains in important markets and longer treatment duration in newly diagnosed multiple myeloma (MM). Revlimid sales are projected between $8 billion–$8.3 billion.
Currently, Celgene is working on expanding Revlimid's label further. FDA approved Revlimidfor use as a maintenance treatment in NDMM patients after they receive an autologous stem-cell transplant. The drug was also approved in the EU for the same. NDMM market share continues to grow outside the U.S., with a positive uptake both in the EU and in Japan. A label expansion of the drug is expected to boost sales further.
Meanwhile, a broad phase III program evaluating Revlimid in non-Hodgkin lymphoma (NHL) is underway.
Other key products – Pomalyst/Imnovid, Abraxane and Otezla continue to perform well. Both Otezla and Pomalyst achieved blockbuster status in 2016, recording over $1 billion in sales. Otezla sales in the first quarter were impacted by managed care dynamics that led to lower total marketplace prescriptions for psoriasis therapies although the pressure is expected to ease as the year goes.
Pomalyst/Imnovid is being evaluated in multiple combination studies in relapsed/refractory MM. The drug's label was recently updated in the U.S. and the EU to include data from a pooled pharmacokinetics analysis of patients with relapsed and/or refractory MM and impaired renal function. Pomalyst, in combination with Darzalex and dexamethasone for relapsed/refractory myeloma, is under FDA review.
For 2017, Abraxane sales are estimated to be around $1 billion. While Pomalyst's revenues are projected around $1.6 billion, the same for Otezla are estimated around $1.5 billion– $1.7 billion.
Meanwhile, R&D expense as a percentage of revenues is expected to increase throughout the year.
In the second-quarter call, investors are expected to remain focused on the company's performance and label expansion efforts, along with updates on the pipeline front. Celgene has submitted a new drug application to the FDA for Idhifa in relapsed refractory AML in 2016. The NDA for Idhifa was granted Priority Review with a Prescription Drug User Fee Act (PDUFA) action date of Aug 30. We note that Celgene has inked an agreement with Agios Pharmaceuticals AGIO for Idhifa.
Celgene Corporation Price and EPS Surprise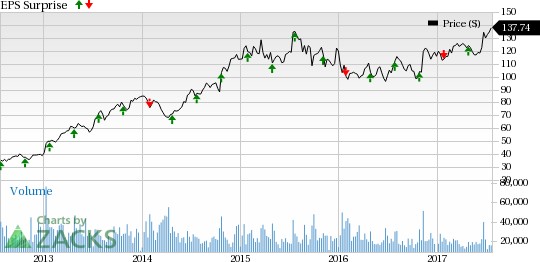 Celgene Corporation Price and EPS Surprise | Celgene Corporation Quote
Stocks Poised to Beat Estimates
Here are some other health care stocks that you may want to consider, as our model shows that they too have the right combination of elements to post an earnings beat this quarter.
Vertex Pharmaceuticals Incorporated VRTX has an Earnings ESP of +33.3% and a Zacks Rank #1. The company is scheduled to release results on Jul 26. You can see the complete list of today's Zacks #1 Rank stocks here.
Alexion Pharmaceuticals, Inc. ALXN has an Earnings ESP of +6.48% and a Zacks Rank #3. The company is scheduled to release results on Jul 27.
More Stock News: This Is Bigger than the iPhone!
It could become the mother of all technological revolutions. Apple sold a mere 1 billion iPhones in 10 years but a new breakthrough is expected to generate more than 27 billion devices in just 3 years, creating a $1.7 trillion market. Zacks has just released a Special Report that spotlights this fast-emerging phenomenon and 6 tickers for taking advantage of it. If you don't buy now, you may kick yourself in 2020. Click here for the 6 trades >>

Want the latest recommendations from Zacks Investment Research? Today, you can download 7 Best Stocks for the Next 30 Days.
Click to get this free report
Agios Pharmaceuticals, Inc. (AGIO): Free Stock Analysis Report
Alexion Pharmaceuticals, Inc. (ALXN): Free Stock Analysis Report
Vertex Pharmaceuticals Incorporated (VRTX): Free Stock Analysis Report
Celgene Corporation (CELG): Free Stock Analysis Report
To read this article on Zacks.com click here.