While this morning's prepared remarks will be the same hodge podge of three-armed economist-speak, we suspect the Q&A will be a little aggressive as Fed Chair Janet Yellen faces The House Financial Services Committee. Having told the markets that "valuations are somewhat higher than normal," and "heightened leverage and weak underwriting terms are close to levels preceding the financial crisis," we are sure the Congressmen (and women) will focus attention on financial stability concerns - as opposed to back-patting celebrations of how well The Fed has done.
Silver & Gold are outperforming since Yellen began yesterday's testimony with crude lower...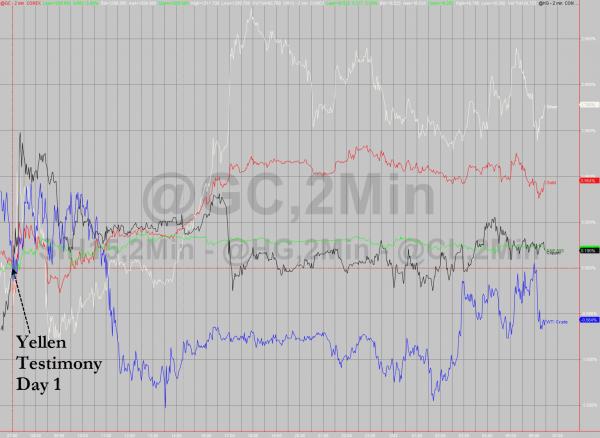 Policy...
*YELLEN: `PATIENT' MEANS LIFTOFF UNLIKELY FOR COUPLE OF MEETINGS
*YELLEN: GUIDANCE CHANGE TO MEAN LIFTOFF POSSIBLE AT ANY MEETING
*YELLEN: FED WILL RAISE WHEN `REASONABLY CONFIDENT' ON INFLATION
*YELLEN: FED WILL CHANGE FORWARD GUIDANCE BEFORE RAISING RATES
*YELLEN SAYS FED WILL REDUCE BALANCE SHEET GRADUALLY
*YELLEN: NEW GUIDANCE NOT NECESSARILY LIFTOFF IN COUPLE MEETINGS
*YELLEN: BALANCE SHEET REDUCTION MAINLY VIA HALTING REINVESTMENT
Macro...
*YELLEN SAYS GDP STRONG ENOUGH TO GRADUALLY LOWER JOBLESS RATE
*YELLEN: LOWER OIL PRICES SIGNIFICANT NET PLUS FOR U.S. ECONOMY
*YELLEN SAYS FOREIGN DEVELOPMENTS COULD POSE RISKS TO U.S.
*YELLEN SAYS LOWER BOND YIELDS PARTLY REFLECT WEAKNESS OVERSEAS
*YELLEN SAYS CHINA COULD SLOW MORE AND EURO AREA FACES RISKS
*YELLEN SAYS RISKS FACING FOREIGN OUTLOOK NOT JUST ON DOWNSIDE
*YELLEN SAYS INFLATION TO FALL FURTHER IN NEAR TERM
*YELLEN SAYS IMPROVING JOBS AND FADING OIL IMPACT TO LIFT PRICES
Yellen is due to start her prepared remarks at 10ET...
*  *  *
Here is the Feds' Master Plan - according to Deutsche bank...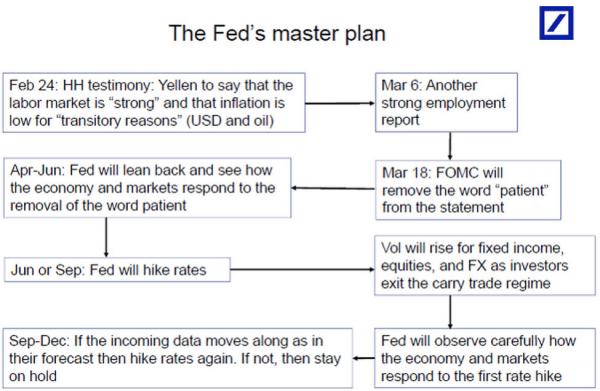 *  *  *
Yellen's prepared remarks below: