EUR/AUD 4H chart 10/3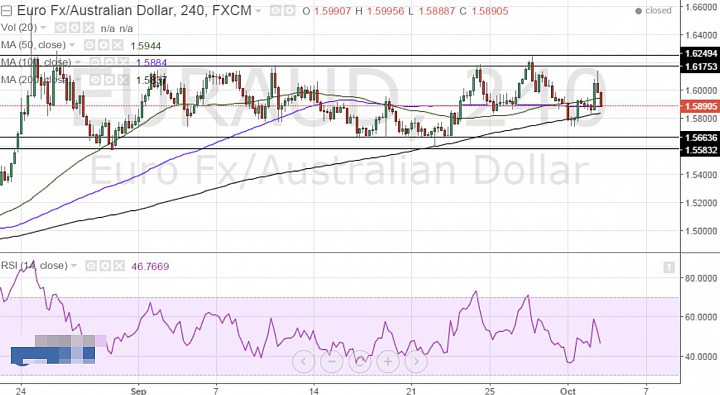 (click to enlarge)
I was bullish on the EUR/AUD a couple of weeks (in September) when price found support in the 1.5583-1.5663 support area, which held in August as well. I had a couple of expectations I was juggling if price did bounce off this range support.
1) Price will continue its prevailing trend, which is bullish. This would mean I should hold and allow price to continue beyond the 1.6175-1.6250 resistance.
2) Price will find resistance in the 1.6175-1.6250 area and remain in sideways consolidation.

To play both expectations, I employed the tact of opening up 2 small positions one with a limit to exit if price hits 1.62 and one that has price going towards 1.63. So, looking at the 4H chart, you can imagine, only one of those positions remain now, and I am holding it. Now, if price falls back to 1.56, this position will actually become a loser since I bought around 1.5760. If price eventually falls back below 1.5580, I will basically exit the loser and net a very small gain from the 2 positions. At that point, I would look to sell on a rally to 1.58, because a break below 1.5580 would have signaled a completed price top.