The USD/CAD has been trading in a choppy mode since May. The 4H chart shows that the form of this consolidation essentially evolved into an ascending triangle.
USD/CAD 4H Chart 7/25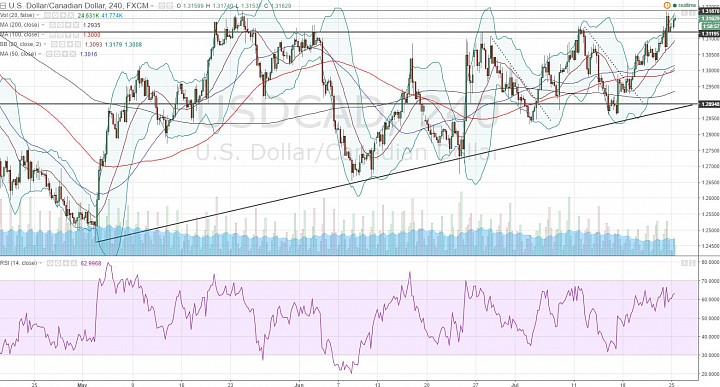 (click to enlarge)
Triangle resistance:
As we can see in the 4H chart, USD/CAD is again flirting with the triangle resistance, represented by the area between 1.3120 and 1.3190. 
I had 2 open positions. One hit first target around that 1.3120 resistance. The other survived a reversal attempt, and would hit target at 1.3225. (I moved up the target after seeing price pummel through the 1.3120 resistance.) I think even that is conservative with 1.34 in sight. 
At this point, a break below 1.3060 would suggest strong resistance. Otherwise, I think USD/CAD is poised to break above 1.32 and open up a bullish swing. 
I think this bullish swing will be predicated on continuing decline in oil prices. When we look at the WTI Crude chart, we can indeed see the prospect of further decline at least towards the 42.50-43 area.