UPDATE: *HOUSE HAS VOTES FOR U.S. AID TO SYRIAN REBELS; VOTE CONTINUING
Those sneaky politicians... The House has just begun voting on whether to amend the US Spending Bill to enable funding for Obama's grand strategy of training "moderate Syrian rebels.
*SYRIAN REBEL AID IS PROPOSED AS AMENDMENT TO U.S. SPENDING BILL
*HOUSE BEGINS VOTE ON U.S. AID TO SYRIAN REBELS SOUGHT BY OBAMA
However, what few have also noticed is that the bill also includes an extension for funding the Export-Import bank.
The House will vote on Wednesday on whether to grant President Obama the authority to train and equip Syrian rebels to battle the Islamic State, but Republicans will insist on a detailed accounting of how the program fits into a broader strategy to defeat the militants, Republican leaders said Tuesday.

 

...

 

The bipartisan effort to aid Mr. Obama's campaign against the group, also known as ISIS, is colliding with a separate fight among Republicans over the Export-Import Bank, which guarantees loans to overseas customers of American exporters but which conservatives denounce as crony capitalism. Some conservative Republicans in the House are eager to oppose any measure that extends the agency's life but reluctant to vote against the ISIS measure. They had hoped the two issues would be broken into separate bills.

 

But Republican leaders, eager to get their candidates back on the campaign trail, rebuffed their conservative colleagues. They argued that Senate Democratic leaders would have rolled the authorization for the Syrian rebels into the funding and Export-Import Bank bill anyway, then sent the package back to the House for yet another vote.
*  *  *
Live Feed via C-Span (click image for link - no embed)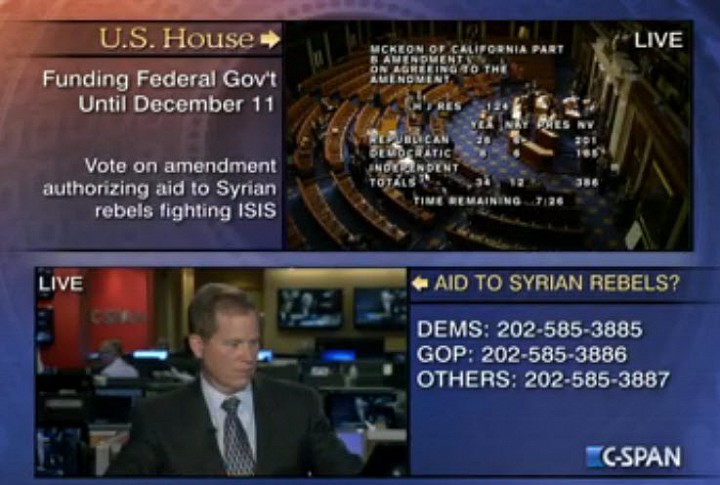 * * *
Some R no votes on Syria amdt: Massie, Lummis, Mulvaney, Rothfus, Westmoreland, Wolf, Jones, Huelskamp, Gowdy...

— Robert Costa (@costareports)

https://twitter.com/costareports/status/512344852395069440