Widget Spotlight #8: Benzinga News
With FinanceBoards' web-based platform (no downloads needed), you can configure your dashboard(s) by selecting any of our 500+ financial data or information widgets, letting you review in one place only the financial data you're interested in. In the "Widget Spotlight" series, we pick one of these widgets, explain how it works, and go over why it's a widget you should consider adding to your dashboard(s).
The Informational Widget in the Spotlight today is Benzinga's News.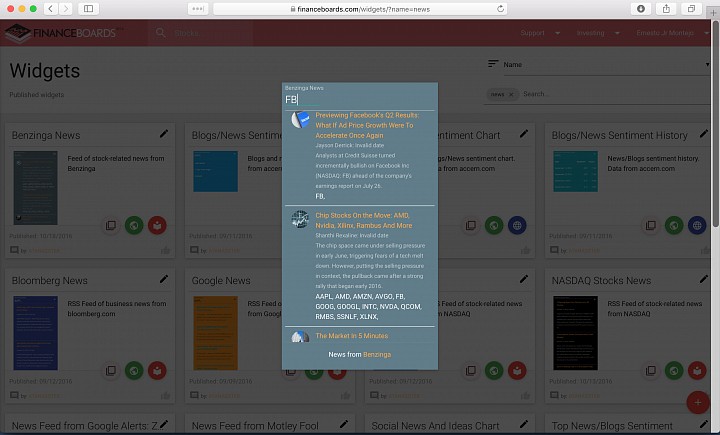 The Benzinga News Widget presents the latest articles that are being released on the Benzinga.com platform. They usually reference specific stocks and are geared towards actionable market news like rumors and trade ideas which drive the news and can act as great research articles on a particular stock or groups of stocks.
There are many ways that you can keep track of live news feeds on a particular stock that you are researching on the FinanceBoards platform after you have logged in.
One of the ways is to make sure you select and place the Benzinga News Widget on your main stock research dashboard. Another way is to select the Trading View Company Information Chart Widget which includes live news on the particular stock that you are researching within live and historical Share price information.
Yet, another way is to have the News Dashboard be one of the Dashboards that you have on your main screen. You can find this dashboard by clicking on; configure, below the listed main dashboards and then selecting it from the published dashboards category and moving it to your main menu in the order you would like to see it. This dashboard is pre-configured with separate live RSS feeds from News Widgets for Bloomberg News, Nasdaq Stock News and Yahoo News.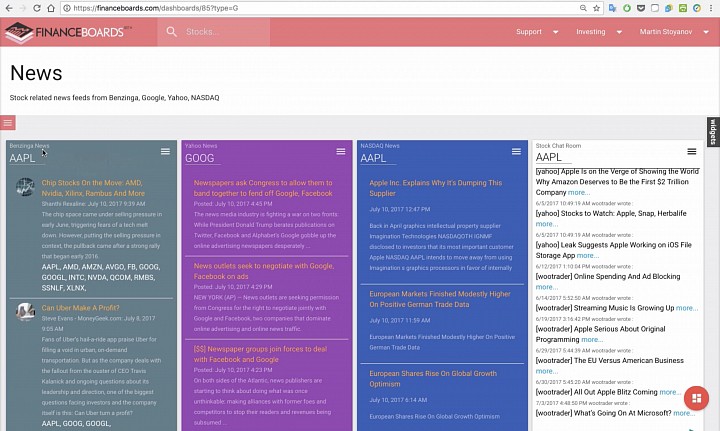 All of these News Widgets could be added to this News dashboard or placed separately on any of your research dashboards just like we have done for the Benzinga News Widget. They can all also be updated to the stock that you are researching by placing the stock's ticker symbol in the search location.
Other news worthy Widgets but without the ability to update stock tickers
include News feed from Motley Fool, Charts from Rogina News Feed, Nasdaq Investing Ideas, Zacks News Feed from Google Alerts and many more…

The breadth of FinanceBoards' research data and information widgets are much greater than just News related Widgets. You can also create any Widget yourself from any API and add them to your dashboards, either our premade ones or ones you've created. Signing up for a free account below is a great way to explore all the widgets FinanceBoards offers.
We invite you to register for a free account here:
Click for a seven minute overview of FinanceBoards that includes the steps on how to add widgets such as these to your dashboard.
Register for our free weekly FinanceBoards webinar: