Real estate investment trusts, commonly known as REITs, are being substantially bid up in the market due to the lack of yield investors are obtaining in the savings, money market, and fixed income markets. Moreover, the low-rate environment is also an important macro tailwind for these firms given it cheapens borrowing and property acquisition costs.
Unfortunately, in the case of National Retail Properties (NNN) and Realty Income (O), shareholders are now getting sub-4% dividend yields and sub-2% organic growth, predominantly through rent increases to its tenants. NNN has a total yield (dividend yield + organic growth) of 4.7% and O of 5.2%-5.7%. Both are rated Baa by Moody's. The rating agency's Baa seasoned corporate debt yield currently stands at 4.2%, leaving a meager spread between a diversified basket of debt and the equity of these particular companies.
Investing in these companies only makes sense for investors targeting 5% returns at best. O, for example, should be trading down in the low-$40's for investors targeting a more normal 7%-8% returns.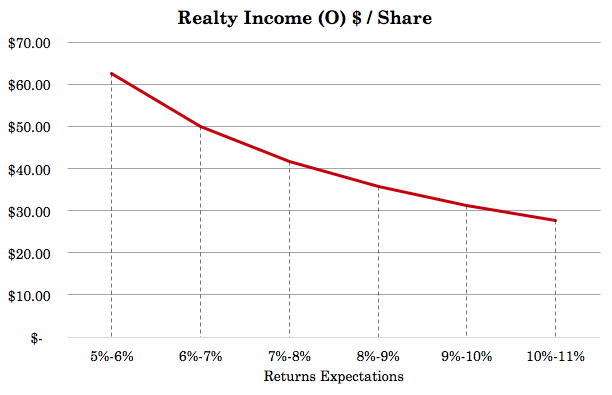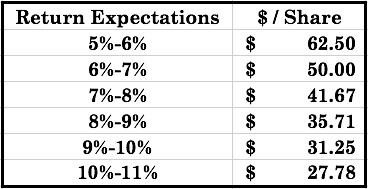 (Source: author)
REITs, particularly, are a sector prime for a correction. Many of these names represent crowded trades and there is just little future upside to possibly be squeezed out of them. Too little reward for too much risk.