I know often those of you who don't subscribe to the PSW Report don't get these trade ideas after the market opens and miss out on some of our Futures trades but yesterday oil didn't even hit our target short at $47 until 9:20 and was still at $46.75 even after my free post went up over at Seeking Alpha with that very, very specific trade idea and target.  We actually published the trade idea at 5:53 am in our live Member Chat room – so our Members had hours to get on board and you can actually see our initiation of the trade all the way back on Wednesday, during our Live Trading Webinar at 2pm (where I also called Retail dead the day before the big Retail sell off (at 00:56:10)!   
As it worked out, we nailed the top and nailed the bottom on that oil call and no, I'm not psychic – we're merely using the 5% Rule™ – one of the essential tools we teach to our Members at PSW every day!  

We even made money on the move back up in our Live Member Chat Room, calling the turn at 11:17, a full hour before it began to go higher.  We also had similar success on our Gasoline Futures play (/RB), where we had called the short in the Webinar at $1.575 and we caught a 0.02 drop at $420 per penny, per contract, which paid $840 on a single contract and $3,360 for 4 to push us well over the $5,000 mark from Wednesday's Webinar Trade Ideas – keeping our 2016 streak of winning trade ideas alive.  
Remember – I can only tell you what is going to happen in the markets and how to make money playing it – the rest is up to you!  
https://twitter.com/philstockworld
We had an extensive macro discussion this morning on oil and the Global Economy in our chat room, so I won't go over that again but the key takeaway was the Abe/Kuroda one-two punch this morning that sent the Yen lower but has failed to lift the Nikkei as people simply no longer believe in the Banksters who cry "
QE
" for the hundredth time.  
We're waiting on the 8:30 Retail Sales Report and last month was a TERRIBLE -0.3% after 0% in Feb and -0.4% in Jan BUT last year, we were negative 0.5-0.7% in Dec, Jan and Feb and we survived that but we never really recovered enough to make up fro it so, essentially, we're only up 3% from last year and probably less than that as more data comes in.  How much of that is baked in already?  We had a Hell of a retail sell-off this month already, with the Retail ETF (XRT) falling 10%.  Earnings from retailers have been worrying and Nordstrom's (JWN) and JC Penny reported shockingly bad quarters last night and both are down about 15% pre-market – taking all the indexes back to yesterday's lows. 
Meanwhile, that's a great opportunity to go long on at Dow (/YM)  17,600, S&P (/ES) 2,050, Nasdaq (/NQ) and Russell (/TF) 1,100 as it's going to hard for Retail Sales to disappoint low expectations.  We go long the laggard and out if any of them fail their levels.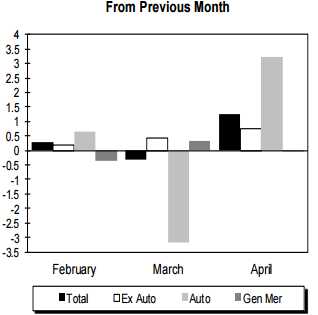 8:30 Update:  Up 1.3% on Retail Sales is a huge upside surprise and even ex-autos we're up 0.8% and I'm very surprised though part of it is gasoline, which went from $1.80 in March to $2 in April at retail, so 10% pop on that sector alone.  Still, now we have to figure out where these sales came from but, of course, Q1 earnings have nothing to do with April so, for all we know, Q1 was the bottom across the board.  
As you can see from the chart – we shouldn't get too excited because the -3% in March became a +3% in April in Auto Sales so net 0 and the others not too much better.  You can tell it's a slow road to recovery because the PPI is only up 0.1% in the core so a whole lot of sales to drive the consumer back to the stores.  Still, it is WAY BETTER than heading lower on Retail Sales and that sector has already been punished enough so game on for our longs in the Futures and expect XRT to lead us higher. 
Also, if you'd like a quick stock play – we picked up Apple (AAPL) at $90 yesterday and we leveraged it with the May (expire next Friday) $87.50 calls at $3.15, which closed yesterday at $3.25, which is net $90.75 and we think AAPL can at least bounce $1 or two and that should take those calls to $4, which is a very nice, quick gain into the weekend.  
We'll take a quick $250(ish) and run on our Futures longs this morning as we're just looking for our Egg McMuffin money – nothing more.  Also, stronger Retail Sales = stronger Dollar and that will put a temporary lid on the rally at our next levels.  If the next levels break (17,650, 2,060, 4,340 and 1,110) THEN we can go long the laggard once again (if 2 of 4 are over you can go long and stop out if any 3 are back under) but these are just fun money trades on Friday – our weekend has already started and we sure don't want to risk yesterday's gains.  
Have a great weekend,
- Phil
Provided courtesy of Phil's Stock World.
Would you like to read up-to-date articles on the day they are posted? Click here to become a part of our growing community and learn how to stop gambling with your investments. We will teach you to BE THE HOUSE - Not the Gambler!