Earlier today, when the Markit PMI and the ISM non-manufacturing data disagreed violently over a key aspect of the economy, namely that according to the first, the all important, forward-looking New Orders had dropped to the lowest since the great financial crisis, while according to the latter, they rebounded modestly in January, we decided to go straight to the source: the unadjusted data which does not incorporate any gratuitous seasonal adjustments (which for the ISM, were just adjusted as part of its annual revision spectacle).
So without further ado, we present the ISM non-manufacturing New Orders. We let readers figure out which is which.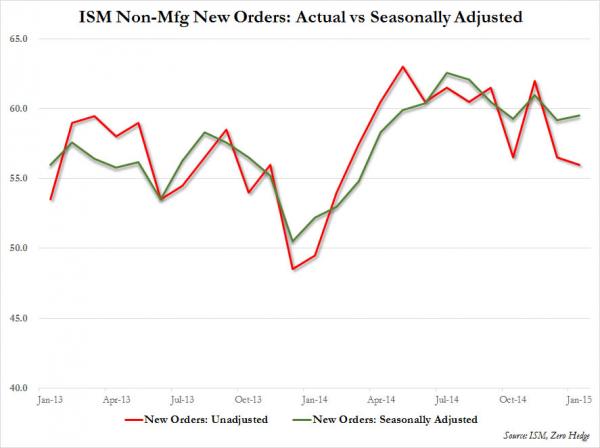 Furthermore, one is declining and at the lowest level in a year; the other is rising having staged a modest rebound in January. Furthermore, the monthly differential between the two series is the widest it has been in over two years...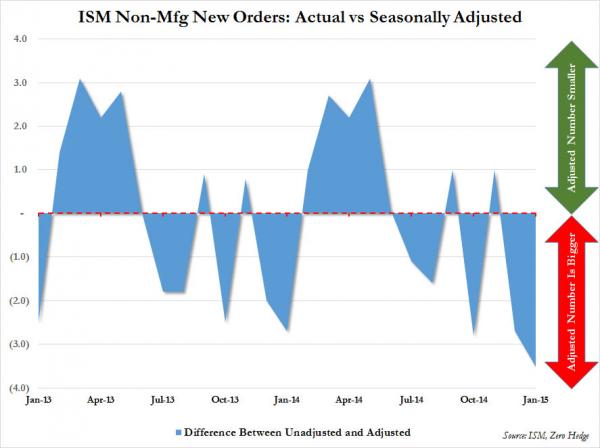 ... begging the question: just what specific factor mandated the biggest seasonal adjustment boost to the January New Orders data, one which surpassed the adjustment seen even during the economy crippling Polar Vortex of last January, and which ultimately led to the ISM headline number "beating" expectations?