"It's all noise," squeaks Laszlo Birinyi, deflecting concerns about revenues, earnings, Europe, China, commodities, and rates as he unleashes his latest extrapolation. "If we continue to grow at 11 bps per day, the S&P will be at 3,200 within 2 years," adding "you can dismiss 40% of the S&P", supposedly the 40% that is not going up, he warbles as he hopes his ruler - which missed its 2013 projection by 1100 points or 40% - is is more accurate at forecasting this time.
Good luck with the ruler this time Laszlo.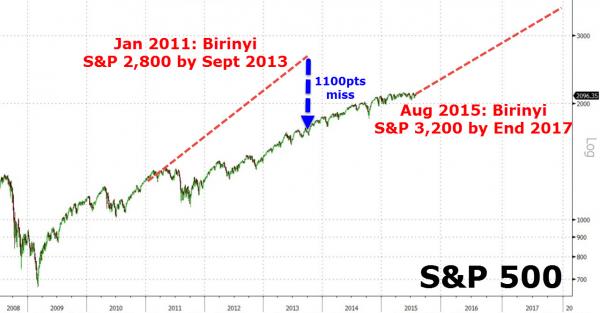 This would represent a 24x multiple on Goldman Sachs' already exuberant $134 estimate for 2017 earnings, which in turn assumes oil soars back to $100 or higher, and S&P earnings grow by almost 20% over the next two years. Dare we suggest that in order for the S&P to reach 3,200 within 2 years, the dollar will have to collapse in a Venezuela-esque hyperinflation. By then, the real question will be not if 3,200 but whether 32,000 or 320,000...
Finally, his 2013 "forecast" aside, here is what he said would happen entering the biggest economic and market collapse in US history:
LASZLO BIRINYI, PRESIDENT, BIRINYI ASSOCIATESA

 

Wall Street veteran who landed his first job at a financial services firm, Auerbach, Pollack & Richardson, in 1972, Birinyi has seen many market crises. The current one doesn't faze him much: "Based on historical data, I articulated a principle some years ago that has been very profitable for me," he says. According to Birinyi's "Cyrano principle," "if the concerns of the market are as obvious as the nose on your face, the market and monetary policymakers will have an amazing ability to adapt and adjust." He believes the Fed will do what it takes to calm the credit crisis.

 

Birinyi thinks the bull market that started in 2002 is still very much intact. He expects the current economic expansion to continue, with 5% corporate earnings growth helping to propel the Dow to 15,000 by the end of 2008. The signs of a market top, which include speculative fervor and rising stock valuations, "really aren't present," he adds. At 15 to 18 times estimated earnings—the exact number depends on how you measure earnings—stock market values are neither cheap nor expensive. If the market were a traffic light, Birinyi says, it would be flashing a yellow signal now.

 

Birinyi sees "pockets of value." With risk aversion rising, he thinks investors will pay more for such predictable growth stocks as Google (GOOG) and Deere (DE). He expects commodity prices to keep rising "as the emerging markets continue to emerge." He also favors buying stocks which were "excessively punished" in the recent subprime-related meltdown. They include retailers Tiffany (TIF), Nordstrom (JWN), J. Crew (JCG), and financial giant American International Group (AIG).
Source: Bloomberg, December 2007