There has been lot of speculation regarding Apple Inc AAPL reaching the $1 trillion mark.
For a while now, analysts have been predicting that Apple will be the first company to reach the trillion dollars valuation. Per a recent report by GBH Insights analyst Daniel Ives, as quoted by Investors Business Daily, iPhone X cycle could help Apple reach the milestone figure as early as next year.
Apart from iPhone X, the analyst adds that the fast booming Services business and the rebound witnessed in China could propel Apple to new highs. A cash pile of $250 billion could help Apple make strategic acquisitions (Netflix, Walt Disney, Tesla and the rumors go on) and carry on with its gigantic shareholder return plan.
Apple Inc. Revenue (TTM)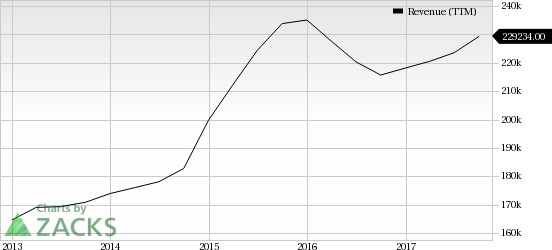 Apple Inc. Revenue (TTM) | Apple Inc. Quote
Ives was quoted saying, "Apple shares, in a best-case/bull-case scenario, could be in the $210-$230 range over the next year in our opinion ... thus becoming the first member of the 'trillion-dollar market cap club."
The stock's last closing price was $171.10 and the company's market cap is $878.5 billion.
iPhone continues to be the mainstay of Apple's revenues. The revolutionary iPhone, released in June 2007, changed the world forever and catapulted Apple to new highs.Upon release, the phone received a terrific response. The success of iPhone over the last decade is well chronicled. Reportedly, Apple has sold over 1.2 billion iPhones across the globe, earning over $760 billion in revenues.
Since the first iPhone release, Apple shares have skyrocketed compared with the industry to which it belongs. Over the last decade, Apple stock has returned 881.4% while the industry witnessed a rally of 416.5%.

Other Contenders in the Race to the $1 Trillion Club
Apple is not the only contender in the race to $1 trillion. A few days back, a CNBC report, citing Morgan Stanley MS, said that Amazon.com Inc AMZN shares could reach $2000 per share in 2018, helping it to reach the magical valuation.
A Morgan Stanley analyst was quoted saying, "Our sum of the parts methodology looks out to 2022 for the 5 various segments (1P, 3P, AWS, Subscription, and Advertising/Other) and applies multiples based on what we view are appropriate peer groups, factoring in relative growth rates and margin profiles. We discount each segment back to year-end 2018 to arrive at a $2,000/share value or ~$1 trillion bull case."
Amazon last closing price was $1,137.30 and its market cap is around $548 billion.
Then there is Alphabet GOOGL, which needs no introduction. Alphabet shares yesterday closed at $1,048.47 and it has a market cap of $722.3 billion.
Analysts remain bullish on the stock as it has lot of upward potential. The company's YouTube dominates the video market. It is the leader in web search. The company is also dabbling in autonomous vehicles, augmented/virtual reality (AR/VR) and artificial intelligence, all of which present a strong growth opportunity.
At present, Apple, Amazon and Alphabet carry a Zacks Rank #3 (Hold). You can see the complete list of today's Zacks #1 Rank (Strong Buy) stocks here.
Looking for Stocks with Skyrocketing Upside?
Zacks has just released a Special Report on the booming investment opportunities of legal marijuana.
Ignited by new referendums and legislation, this industry is expected to blast from an already robust $6.7 billion to $20.2 billion in 2021. Early investors stand to make a killing, but you have to be ready to act and know just where to look.
Want the latest recommendations from Zacks Investment Research? Today, you can download 7 Best Stocks for the Next 30 Days.
Click to get this free report
Amazon.com, Inc. (AMZN): Free Stock Analysis Report
Alphabet Inc. (GOOGL): Free Stock Analysis Report
Apple Inc. (AAPL): Free Stock Analysis Report
Morgan Stanley (MS): Free Stock Analysis Report
To read this article on Zacks.com click here.
Zacks Investment Research