But the shadow of crisis has passed... it appears the engine of job growth in America is sputtering as NFIB Small Business optimism dropped from 100.4 to 97.9 (against an extrapolated 101.0 expectation - the biggest miss since Nov 2012). Across the board the data was disappointing with the percentage of firms expecting a better economy falling to 0%, and the number of employers anticipating job creation drops to just 14%.
Not what Obama and The Fed were looking for... must be the weather...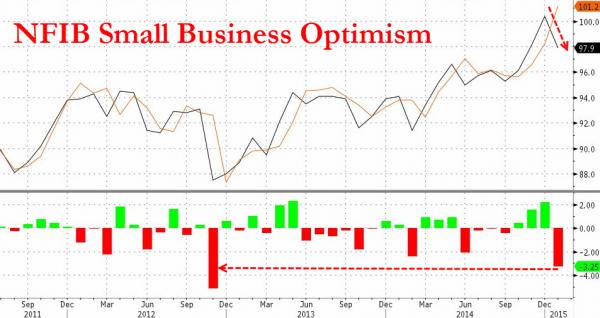 This is the biggest MoM drop Since Nov 2012
Breakdown:
13% of employers think it is a good time to expand
Employers anticipating job creation falls to 14%
Percentage of firms expecting a better economy falls to 0%
Firms anticipating higher selling prices falls to 3%
Firms seeing increased capital spending falls to 26%
Firms planning to boost inventory falls to 2%
Firms expecting better sales falls to 16%
Firms viewing inventories as too low rises to -1%
Employers with jobs not able to fill rises to 26%
Firms seeing easier credit conditions unchanged at -5%
Firms expecting positive earnings trends falls to -19%
Firms expecting compensation to grow unchanged at 25%
It appears the NFIB survey is catching down to reality...

https://twitter.com/greg_ip

pic.twitter.com/s4vHfpGk2s

— Michael McDonough (@M_McDonough)

https://twitter.com/M_McDonough/status/565152216978587648
Charts: Bloomberg