China tightened web controls around Communist Party congress
Spending on artificial intelligence surged 24 percent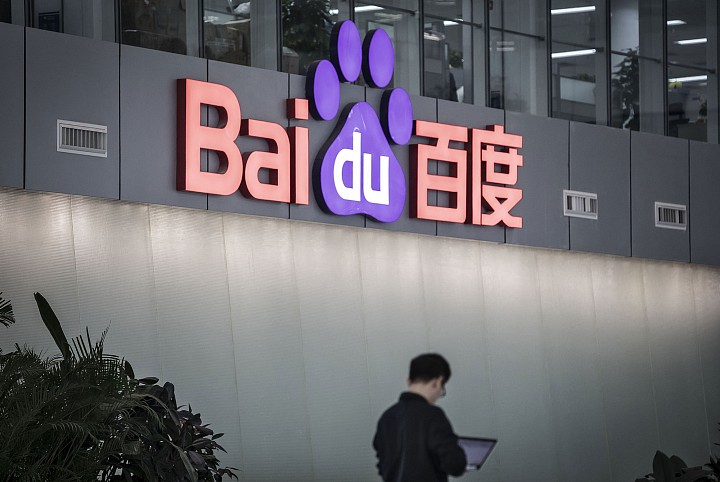 Baidu Inc.'s sales forecast fell short of analysts' predictions, after an online ad crackdown around a sensitive political gathering depressed traffic during the normally busy final quarter. Shares tumbled as much as 15 percent.
China's biggest search giant predicted revenue of 22.23 billion yuan to 23.41 billion yuan ($3.34 billion to $3.52 billion) in the December quarter, falling short of the 24.8 billion yuan projected.
The forecast comes days after the wrap of the 19th National Congress of the Communist Party of China, a tightly managed affair held in Beijing every five years. Chinese political gatherings can cause ripples throughout the economy from factory closures to dampened spending with advertising restrictions encompassing both the number and types that can be displayed.
"Baidu's ad load faces certain restrictions due to the 19th National Congress, affecting ad revenue for both core search and feeds," said Natalie Wu, an analyst at China International Capital Corp.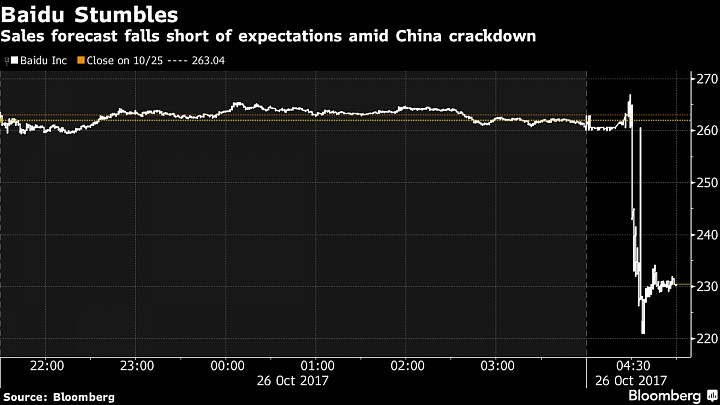 The miss comes at a critical time for Baidu, which is attempting to turn around its business after a difficult 2016. Profits fell for the first time since the company listed thanks to heavy spending on services like food deliveries, rising competition from the likes of Alibaba Group Holding Ltd., and a health-care ad scandal that slashed its pool of advertisers. Rivals such as Tencent Holdings Ltd. and Sohu.com Inc.'s Sogou are also angling for a greater share of search advertising.
"We expect the environment to become even more difficult if Tencent wants to nurture search habits," Wu added.
The company's bet on artificial intelligence is driving up costs, with spending on research and development rising 24 percent to 3.2 billion yuan from a year earlier. While the search engine has been telling investors that the worst is behind it, the total number of active online marketing customers fell 7 percent to 486,000 in the third quarter.
Content costs have also sky-rocketed, rising 76 percent to 3.9 billion yuan. Most of this was due to its Netflix-like streaming video service, iQiyi. But Chief Financial Officer Herman Yu confirmed that both Baidu and its video streaming subsidiary had cut certain types of ads and content "to show our respect" for the Chinese government's 19th Party Congress -- a move that would affect its fourth quarter revenue.
Baidu reported net income of 7.9 billion yuan during the three months that ended in September, compared with the 3.88 billion yuan projected. Sales hit 23.5 billion yuan, matching analysts' average estimate.
Baidu is fighting to convince disillusioned shareholders to back costly long-term investments in AI and autonomous vehicles. Yu told investors not to expect material revenue from its Apollo autonomous car platform or voice assistant DuerOS in the near future.
Since former Microsoft Corp. executive Qi Lu took the helm in January, Baidu has sold its food delivery unit Waimai to Alibaba-backed rival Ele.me, and opened up its driverless car technology to dozens of industry partners. IQiyi is targeting a U.S. listing, people familiar with the matter have said.
Baidu's U.S. shares slid as low as $221 in extended trading following the report, after closing at $260.62 in New York. The stock has gained 59 percent this year.
— With assistance by David Ramli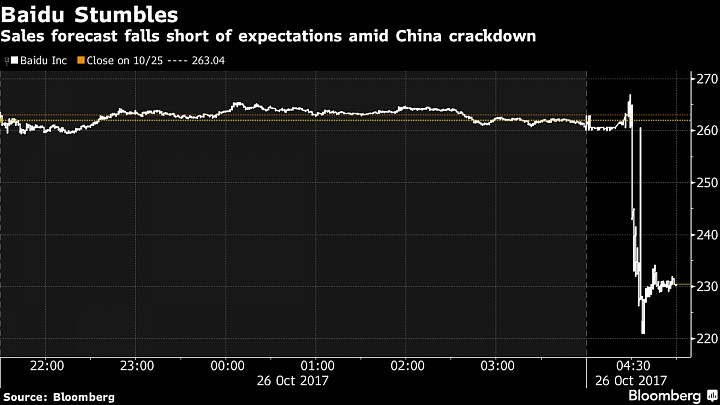 More