Gold fell to an eight-month low as the outlook for higher U.S. borrowing costs strengthened the dollar, damping demand for a store of value. Silver sank to a four-year low and platinum dropped to the lowest this year.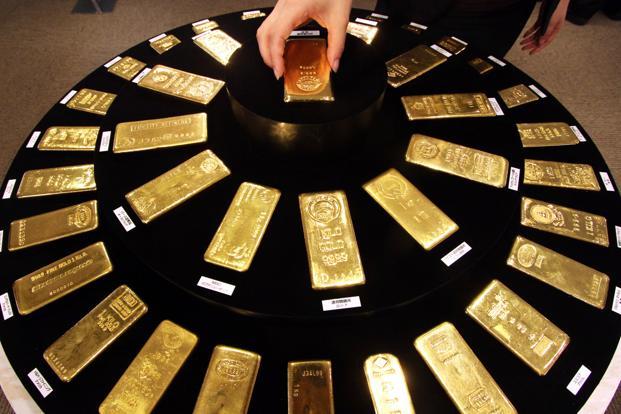 Gold for immediate delivery lost as much as 0.6 percent to $1,208.40 an ounce, the lowest price since Jan. 2 and within 0.6 percent of erasing its advance for the year. The metal traded at $1,212.79 at 2:01 p.m. in Singapore, according to Bloomberg generic pricing.
Bullion is headed for its first quarterly loss this year as the Bloomberg Dollar Spot Index rose to a four-year high and investors cut holdings in the SPDR Gold Trust. The Federal Reserve stayed on course to end its quantitative-easing program in October after cutting monthly bond buying to $15 billion from $25 billion this month. Policy makers last week raised interest-rate projections for 2015, even as the central bank maintained a pledge to keep rates low for a considerable time.
"Gold is very likely on its way to erasing the year's gains," said Barnabas Gan, an economist at Singapore-based Oversea-Chinese Banking Corp. "With the Fed likely to end its QE program at its next meeting, the market will likely turn eyes on the Fed's next move in normalizing monetary policy via higher interest rates."
Gold rallied to as much as $1,392.33 in March as rising geopolitical tensions, including Russia's annexation of the Ukrainian region of Crimea, spurred haven demand. OCBC's Gan forecast in July that bullion's climb would reverse this half.
RSI Reading
Bullion's 14-day relative strength index held below 30 for an eighth day, signaling to some investors who study charts of trading patterns that prices may be poised to rebound. Today's decline extended three weeks of losses.
Holdings in the SPDR Gold Trust, the biggest gold-backed exchange-traded product, sank on Sept. 19 to 776.44 metric tons, the least since December 2008. Investors withdrew about 553 tons last year as gold slumped 28 percent, the most in more than three decades.
Gold for December delivery lost as much as 0.6 percent to $1,208.80 on the Comex, the lowest price since January, and was at $1,213.80. The net-long position in futures and options fell for a fifth straight week, with speculators boosting short bets to the highest level since June in the week ended Sept. 16, U.S. government data show.
Silver for immediate delivery tumbled as much as 2.7 percent to $17.3491 an ounce, the lowest level since July 2010, and was at $17.5669. One ounce of gold bought as much 69.6666 ounces of silver today, the most since June 2010.
Spot platinum lost as much as 0.6 percent to $1,328.25 an ounce, the lowest price since Dec. 24, and was at $1,332.63. Palladium fell as much as 0.6 percent to $806.38 an ounce, the lowest since May 13, and was at $807.50