From mid-March to mid-April, gold (XAU/USD) price fell from 1392 to 1268. You can see this dip in the 4H chart.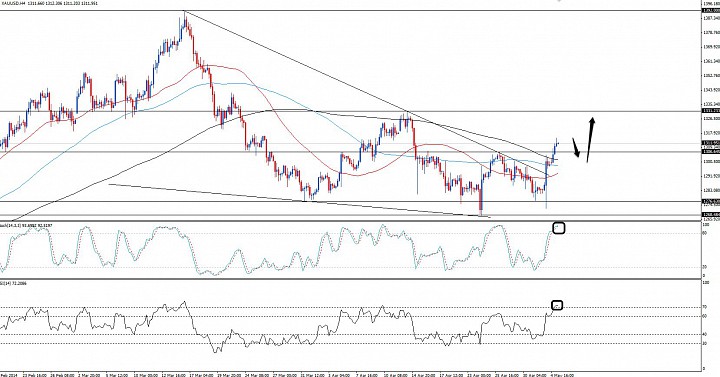 (gold 4h chart, 5/5)
Bullish breakout:
To start this week, gold price has broken above a couple of resistance factors:
1) 1300-1306 support/resistance pivot
2) A falling trendline connecting 1392 and 1331. 
Note also that in the 4H chart, it looks like gold has made a higher low and about to make a higher high. Therefore it looks like gold has shifted from bearish to neutral-bullish. 
In this scenario, the 1330 level is in sight. Then if the market can push above this April high, the bullish outlook might return, with 1392 in sight.
Pullback:
In the near-term, we should expect some pullback toward the starting price of this week, which was just below 1300. If the market can keep price north of 1300 or bounce right back above it when it gets broken, then bulls should still be in charge in the short-term.