What happened
Genuine Parts Company (NYSE:GPC), owner of NAPA Auto Parts, became the first of the major auto parts companies to report earnings and sales for its first-quarter period ending on March 21.
The key issue to focus on is automotive group comparable sales, which can be seen in the chart below. I've also included the most directly applicable sales numbers for its peers, O'Reilly Automotive Inc (NASDAQ:ORLY), AutoZone, Inc (NYSE:AZO) and Advance Auto Parts, Inc. (NYSE:AAP). The disappointing sales performance of Advance Auto Parts is largely due to the effects of integrating a troublesome acquisition.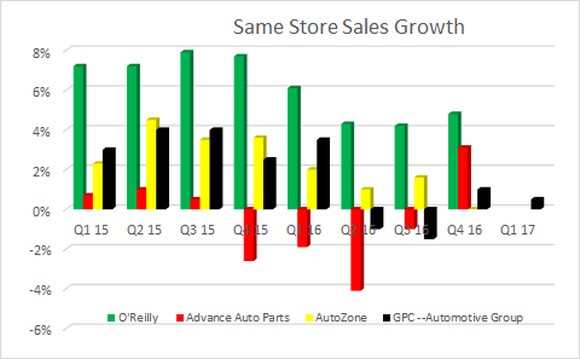 As you can see, a 0.5% comparable-sales increase in the first quarter came up against a strong 3.5%...
More