Housing data has been leveling off in Q3. Today, we got data for sale of existing homes in August. The annualized rate came in at 5.05M, which fell from the 5.14M reading in July, and missed forecast of a 5.21M print. 

When we look at the readings since the subprime and financial crisis,  we can see that existing home sales data may have bottomed, but the recover is very slow and the trend has leveled off in 2013-2014.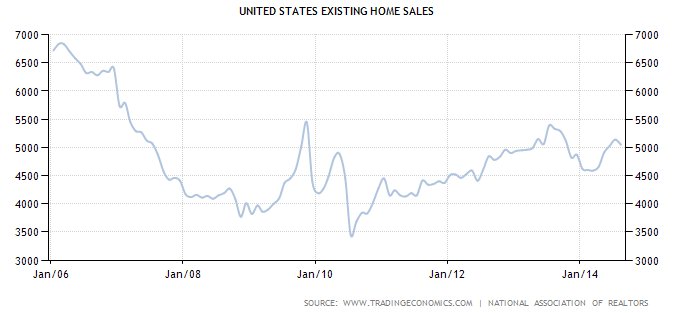 (click to enlarge; source: tradingeconomics.com)
Last week, we saw housing starts data drop below 1.00M to 960K on an annualized basis for August. This was a decline and missed forecasts. Building permits came in at 1.00M, which also was a decline and missed forecasts. 

We got new home sales data on Wednesday (9/24). A single data points like today's might not be significant enough to stall the USD's strength. But if all the housing data for August come in worse than expected, we can anticipate some weight on the USD that would put it in sideways consolidation if not a bearish correction.