Russian car market continues to break the specialists' forecasts, plunging for a 10th consecutive months by 33.5%. There are several reasons for such situation, but it is more important to adjust new Russian economic conditions and AVTOVAZ, the biggest carmaker in Russia, primary has to accept these rules. Wherefore it is quite essential to review financial features of the company.
Chart 1. Key Figures For Shareholders and Investors (AVTOVAZ point of view) in 2015 (9 months)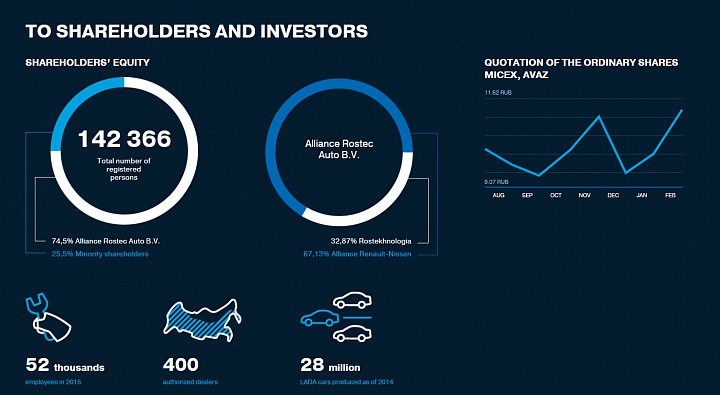 In fact, there are two main owners (67% - Rostekhnologia, 33% - Alliance Renault-Nissan) and more than 140 thousand minor investors.20% of the Russian car market. On the one hand, It has a 20% share of the Russian car market, the export increased by 50% according to 2013 (CIS - main partners) and technical capabilities allow producing up to 1 million units per year.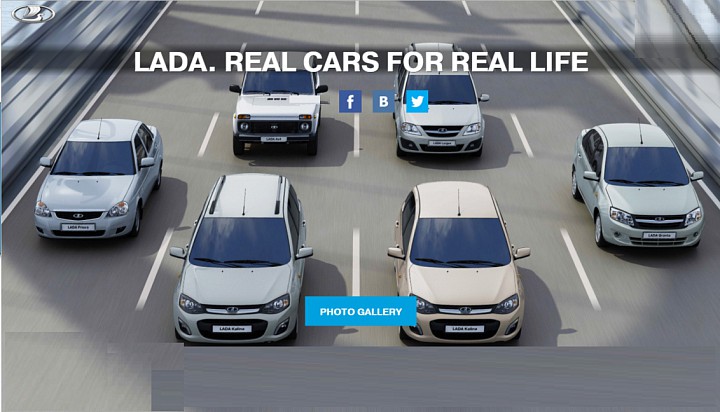 From the AVTOVAZ Group point of view the successful introduction of two new models Vesta and XRAY will boost investment and operation attractiveness. By the way Vesta production was launched on September 25 and it was tested on October 22 by Vladimir Putin and some experts suppose that this car will be a Russian Logan, Solaris Rio and Polo substitute. For more information about AVTOVAZ products you can visit these channels: JoRick Revazov or 
.
But on the hand the company has a real problem with its financial ratios.
Table 1. Consolidated Statement of Comprehensive Income for the nine month ended 30 September 2015 (in millions of Russian Rubles)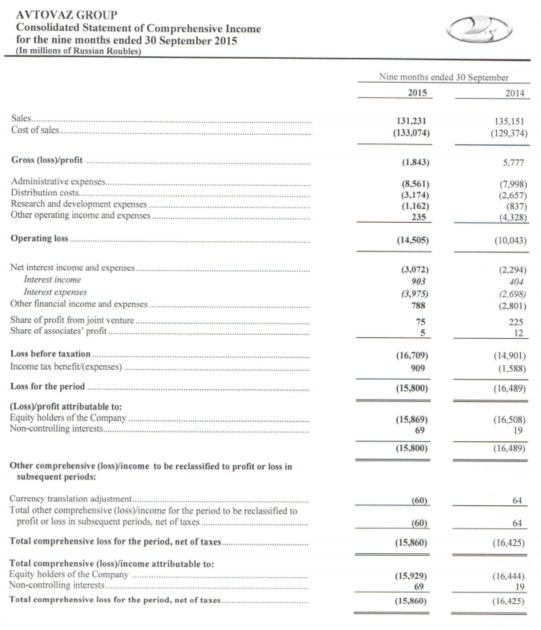 To be more precise, sales revenue fell from 135.2 billion rubles in 2014 (9 months) to 131.2 billion rubles in 2015 (9 months). Operating loss increased by 144.5% and production volume declined by 9.8% and retail sales is down by 28.3% in comparison with 2014 (the same period). 
Chart 3. ROS, ROA, ROE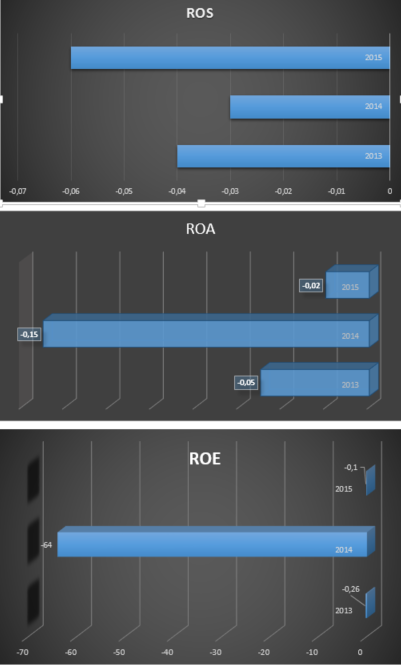 Also the revenue fall during the last 3 years declined efficiency of sales by 2%, whereas the return of equity dramatically increased from - 64 to - 0.1 in comparison with 2013 and 2014 respectively. The growth of assets minimized current loses and it gives Lada an increase in assets efficiency use.  
Chart 5. AVTOVAZ, Nissan and Renault Stocks movement in 2013-2015 (by Q)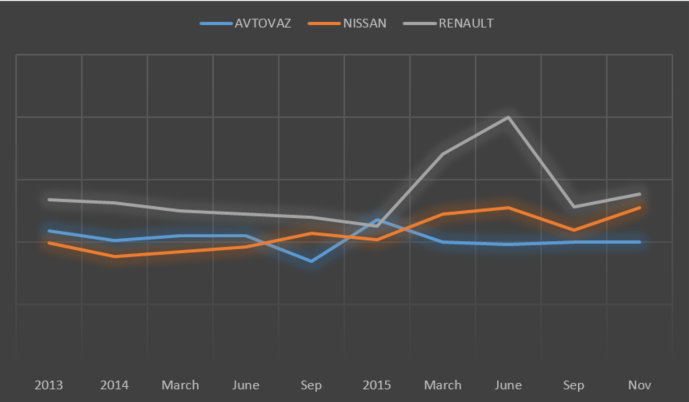 As it was previously mentioned, Renault-Nissan alliance has a part AVTOVAZ life and in theory they have to depend up to each other and its' stocks movement might copy themselves. A correlation ratio between these carmakers estimates -0.32 and co-variance is -19 which gives us a reason to think that country risks ( in Russia) destroyed the potential link. 
Chart 6. Daily AVTOVAZ (AVAZ) Chart
<!== INSTRUMENT %% %1440% ==!>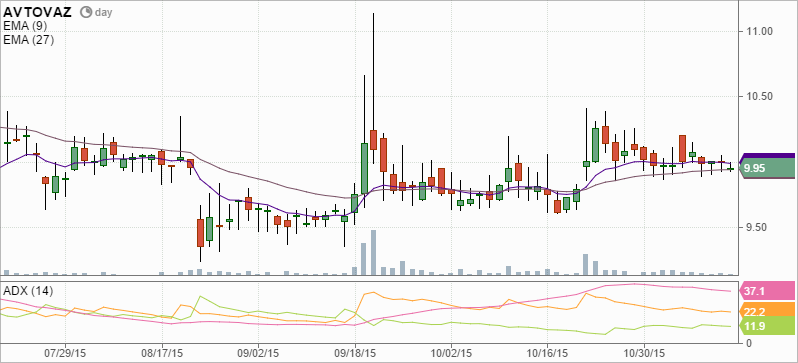 It is an illiquid share without volumes and it is not so interesting for traders to deal with it. At the same time AVTOVAZ Group does not pay dividends for about 5 years and according to its current financial situation nobody wants to risk with his own capital. Maybe new models coupled with Putin's promotion will change situation in this company. But the hursh reality is that there is no true progressive inventions in the company.