Having already put his foot in his mouth about the US oil production industry, it appears Treasury Secretary Lew has done it again:
*LEW SAYS UNFAIR FX MOVES TO DRAW SCRUTINY FROM U.S.
His barbed comment can only be pointed at Draghi and his crush-the-Euro at all costs plan. But ironically, while he is 'scrutinizing' Europe's collapsing currency he opines that "a stronger dollar is good for America" - despite Europe proclaiming the exact opposite is good for them and seeming to miss the report after report blaming weak earnings on currency moves.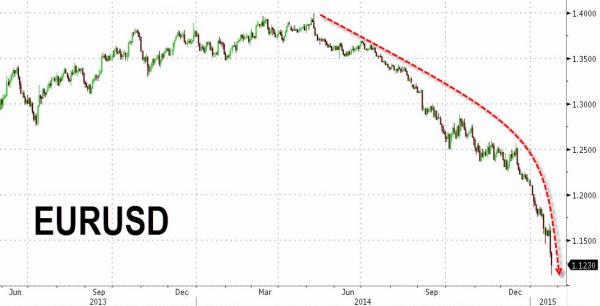 Sure enough, The ECB is taking a page out of the BoJ currency manipul;ation playbook:
*COEURE SAYS EURO RATE IS A CONSEQUENCE, NOT TARGET, OF POLICY
WTF!