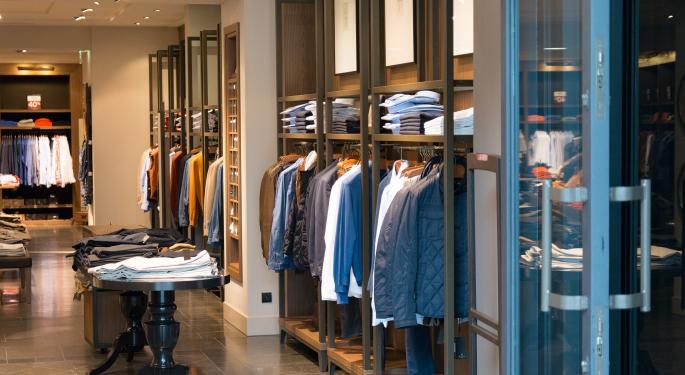 Shares of Gap Inc GPS 6.42% fell on Tuesday in the wake of a slowdown in sales for July. Although Gap reported both EPS and revenue that came in ahead of Wall Street consensus estimates, continuing headwinds with the business, seen in sharp sales declines across a number of the company's brands, spooked investors.
The company reported its first comparable-sales increase in more than a year back in June, but that metric reversed back to negative in July. Overall, same-store sales declined 2 percent in the second-quarter, including a 4 percent decline in July. The fall was largely attributable to same-store sales at the Banana Republic, which saw a 14 percent plunge in the month of July. Sales at the Gap Global namesake brand were down 4 percent for the month, while comps at Old Navy were flat.
For the quarter, same-store sales fell 3 percent at Gap Global, 9 percent at Banana Republic, and flat at Old Navy.
In the wake of the report, Stifel analysts were cautious on the stock, which was trading down 6 percent. They noted that "unfavorable weather, soft traffic trends and uninspiring product assortments contributed to the disappointing results." The analysts weren't optimistic that current headwinds would lift in the near-term, adding that "the prolonged underperformance at the Gap businesses despite management's best efforts has undermined our confidence and limited our visibility for improvement."
For Q2, Gap reported a sales decline to $3.85 billion compared to $3.90 billion in the year-ago quarter. This came in ahead of Wall Street consensus revenue estimates of $3.78 billion. The company also said it sees adjusted earnings per share between $0.58 and $0.59, which is also well ahead of current consensus calling for EPS of $0.48 in the second-quarter.
The stock has rallied in recent months after the positive June sales data, but the latest figures may cause investors to throw in the towel on the name once again. Shares have plunged 31 percent over the last 52 weeks, including a better than 2 percent loss in 2016.
Date
Firm
Action
From
To
Aug 2016
Mizuho Securities
Upgrades
Underperform
Neutral
Aug 2016
Citigroup
Maintains
Neutral
Aug 2016
Deutsche Bank
Maintains
Sell
© 2016 Benzinga.com. Benzinga does not provide investment advice. All rights reserved.