What happened
Footwear and apparel retailer Foot Locker (NYSE: FL) shed 15% last month, according to data provided by S&P Global Market Intelligence: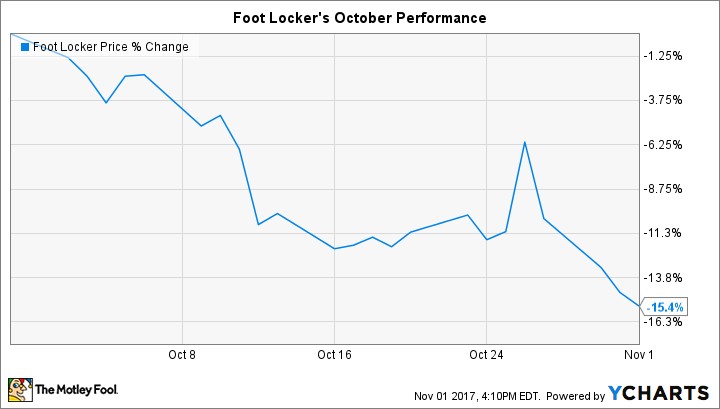 The drop sent shares to new multiyear lows, with the stock down more than 50% year to date.
So what
The October slump wasn't sparked by news from the company, although its latest quarterly update, in late August, gave investors plenty of reasons to be pessimistic. In that report, the retailer posted a surprise 6% drop in comparable-store sales that it blamed on falling customer traffic and a paucity of fresh, innovative footwear on the market.
The industry news hasn't brightened since then. In late September, Nike (NYSE: NKE), which supplies the majority of Foot Locker's inventory, posted declining results in its U.S. segment even as price cuts sent gross profit margin lower.
Now what
Neither Nike nor Foot Locker expects the market to return to growth over the upcoming holiday shopping season, so shareholders should brace for another quarter of sales declines and weaker profits. Foot Locker's long-term rebound will depend mainly on Nike's success at improving its product portfolio, so that customers are again motivated to visit Foot Locker's stores in person and pay premium prices for its athletic shoes.
10 stocks we like better than Foot Locker
When investing geniuses David and Tom Gardner have a stock tip, it can pay to listen. After all, the newsletter they have run for over a decade, Motley Fool Stock Advisor, has tripled the market.*
David and Tom just revealed what they believe are the 10 best stocks for investors to buy right now... and Foot Locker wasn't one of them! That's right -- they think these 10 stocks are even better buys.
Click here to learn about these picks!
*Stock Advisor returns as of October 9, 2017
Demitrios Kalogeropoulos owns shares of Nike. The Motley Fool owns shares of and recommends Nike. The Motley Fool has a disclosure policy.