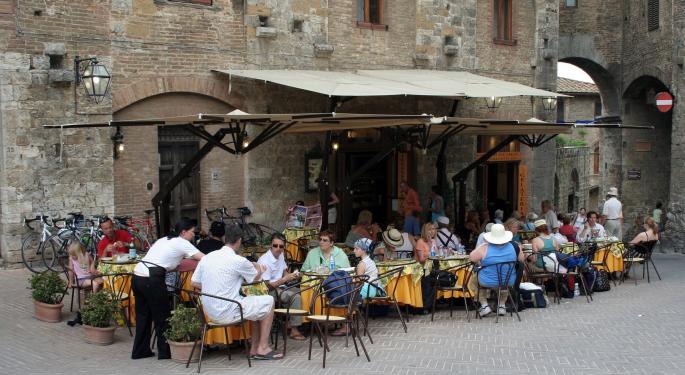 The future of Yelp Inc YELP 0.65% could be very bright, at least according to Tigress Financial's Director of Research Philip Van Deusen.
Although the social media stock has risen 5 percent year-to-date, sentiment on the Street remains mixed. Wells Fargo downgraded the stock to Underperform on Wednesday.
Van Deusen, who is long Yelp, outlined his bullish thesis on Thursday's PreMarket Prep.
Van Deusen said he only recently became bullish on the brand after some changes in management.
"I was not a big believer in the Yelp platform up until the beginning of this year when management made some changes to the business model and has really been elaborating a little bit more and been signaling a little bit better what their intentions intend to do with this user generated content," he said.
He added that the local advertising market is Yelp's biggest draw.
"For me, this isn't just about restaurants and looking for a good place to eat. They're really focusing on the local advertising market as a whole, and I think that there's a lot to be gained by Yelp there," he said.
"So the local advertising market right now is a $150 billion market. It's massive, and Yelp has a very small fraction of that market. As mobile and digital continue to penetrate the local advertising market and the demographics of business owners change over time here, it looks like Yelp has a pretty big potential to make some serious revenue gains in the future.
He continued, "I believe that Yelp could potentially have roughly a $3 billion revenue stream in the future from the local advertising market, and basically I see fair value of Yelp shares about 25 percent higher from where they are right now based on sort of a discounted economic profit scenario."
Listen to the full interview with Van Deusen, including his thoughts on WhiteWave Foods Co WWAV 0.25% and Hershey Co HSY 0.22% at 55:20 in the clip below.
PreMarket Prep is a daily trading ideas show hosted by two veteran traders with a focus on technical analysis. You can catch it live every morning from 8-9:30 a.m. ET here, or listen to the podcast on iTunes, Soundcloud, or Stitcher.
© 2016 Benzinga.com. Benzinga does not provide investment advice. All rights reserved.