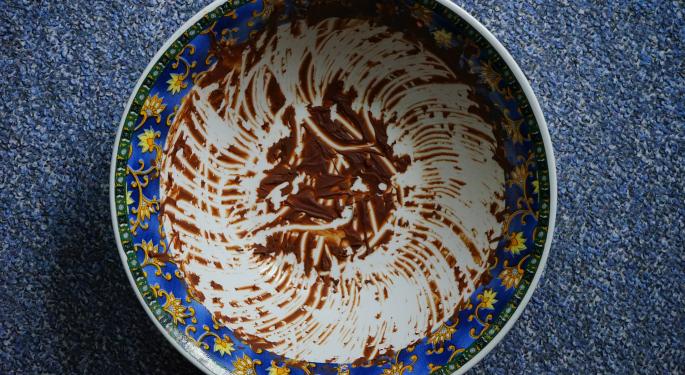 Chipotle Mexican Grill, Inc. CMG 5.33% reported an 82 percent decline in earnings in Q2. Yet the stock is up more than 5 percent in Friday's session. Chipotle reported Q2 EPS of $0.87 versus consensus estimates of $0.93 and revenue of $998.4 million versus consensus estimates of $0.05 billion.
The market enthusiasm following such a seemingly bad earnings and revenue miss could be a sign that Chipotle's nearly one-year decline is finally over.
Most traders are well aware of Chipotle's highly-publicized E. coli outbreak that drove away a number of customers. Chipotle's share price decline began last year even before the outbreak, but the health scare really ignited the selloff.
After climbing as high as $758 in mid-2015, Chipotle has made several daily lows below $400 since the beginning of June. Fortunately for Chipotle bulls, the stock has bounced shortly after each dip below $400, establishing the level as strong psychological support in the short term.
The post-earnings spike on the company's abysmal Q2 numbers could also be a good sign that the stock has finally exhausted all the sellers, and the stock may have finally hit bottom.
Chipotle's stock is now down 41.9 percent from its all-time high, but is still up 33.9 percent overall in the past five years.
Did you like this article? Could it have been improved? Please email feedback@benzinga.com with the story link to let us know!
Disclosure: The author holds no position in the stocks mentioned.
© 2016 Benzinga.com. Benzinga does not provide investment advice. All rights reserved.