Shares of The TJX Companies, Inc. TJX have plunged nearly 10.2% in the last three months compared with the Zacks categorized Retail – Discount & Variety industry decline of 7.4%. Meanwhile, the broader Retail-Wholesale sector, of which they are part of, gained 7.4%. However, management at TJX Companies is taking initiatives to bring back the stock on the growth trajectory.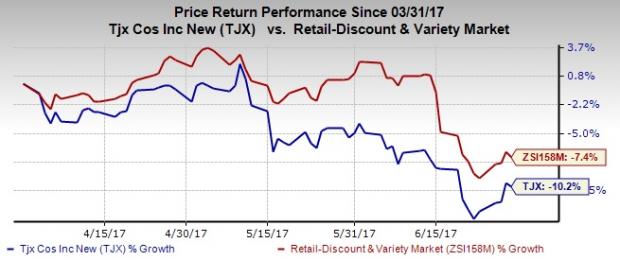 What's Troubling the Stock?

We note that the company's sales missed the Zacks Consensus Estimate in the last two quarters. In the most recent first-quarter fiscal 2018, sales were hurt by currency headwinds and disappointing comparable store sales (comps) growth. In fact, comps grew only 1% over 7% rise in the prior-year period. Moving ahead, we expect currency headwinds to continue affecting net sales and operating profit.

Being a leading off-price retailer, TJX Companies offers goods at discounted price, as a result increased costs cannot be offset against the profits, which lead to lower margins. Furthermore, the company expects incremental investments, additional supply chain costs and pension costs to pressure margins in the coming quarters.

Also, management expects its pre-tax margins to remain under pressure for the next few quarters due to an increase in employee payroll. In fact, higher wages are expected to negatively impact fiscal 2018 earnings by 2%.

Initiatives Undertaken

TJX Companies takes initiatives like offering a wide array of products, aggressive store opening strategy to boost its top line and overall profitability. Moreover, the company's product and geographic diversity, along with enhancement of its global footprint will further help in boosting its financial performance.

Notably, management is also taking actions to augment its online sales, apart from recruiting an experienced internet management team. Moving ahead, TJX Companies plans to add more categories to the online shopping site and invest categorically in it to differentiate from its brick-and-mortar stores. Alongside, TJX Companies' persistent marketing and advertising campaigns through multiple mediums have been boosting traffic at its stores for quite some time now.

Driven by these factors, TJX Companies' earnings have outpaced the Zacks Consensus Estimate in 10 straight quarters.

Bottom Line

We believe that this Zacks Rank #3 (Hold) company will soon return to its growth trajectory backed by its robust strategies. Notably, the estimates have been stable ahead of the company's second-quarter fiscal 2018 earnings release.

Meanwhile, investors can count on some better-ranked stocks in the same industry that include Burlington Stores, Inc. BURL, Target Corporation TGT and Dollar General Corporation DG all carrying a Zacks Rank #2 (Buy). You can see the complete list of today's Zacks #1 Rank (Strong Buy) stocks here.

Burlington Stores has a long-term earnings growth rate of 15.9% and delivered an average earnings surprise of 22.6% in the last four quarters.

Target has a long-term earnings growth rate of 5.4% and delivered an average earnings surprise of 16.5% in the last four quarters.

Dollar General has a long-term earnings growth rate of 10.6% and delivered an average earnings surprise of 1.4% in the last four quarters.

5 Trades Could Profit "Big-League" from Trump Policies

If the stocks above spark your interest, wait until you look into companies primed to make substantial gains from Washington's changing course.

Today Zacks reveals 5 tickers that could benefit from new trends like streamlined drug approvals, tariffs, lower taxes, higher interest rates, and spending surges in defense and infrastructure. See these buy recommendations now >>
Want the latest recommendations from Zacks Investment Research? Today, you can download 7 Best Stocks for the Next 30 Days.
Click to get this free report
Dollar General Corporation (DG): Free Stock Analysis Report
Target Corporation (TGT): Free Stock Analysis Report
TJX Companies, Inc. (The) (TJX): Free Stock Analysis Report
Burlington Stores, Inc. (BURL): Free Stock Analysis Report
To read this article on Zacks.com click here.