The Gap, Inc. (GPS) is slipping 3.87% after hours based on third-quarter results. The moderate slide in the stock price relates to the disappointing-yet-not-terrible quarter. Net sales declined 2% to $3.80 billion, adjusted earnings-per-share came in at $0.60, and comps slid 3%, all on a year-over-year basis.
Looking at the comps number specifically, Gap Global and Banana Republic Global both suffered 8% declines. On the other hand, Old Navy Global—the company's largest global brand—delivered a 3% gain. This is primarily what leads to a mixed picture. Old Navy Global also helped push the merchandise margin rate up 22%.
Read more: Gap Sliding After Hours (GPS) | Investopedia http://www.investopedia.com/news/gap-sliding-after-hours-gps/#ixzz4QMYlbBMB
Follow us: Investopedia on Facebook
Let's take a look at the weekly chart: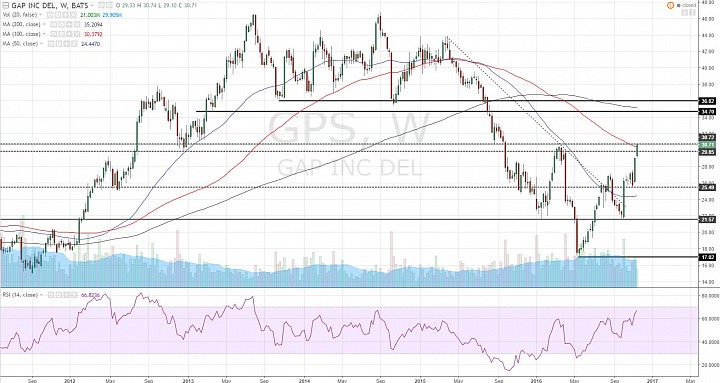 Bullish reversal:
- There are several signs that Gap (GPS) is in a bullish reversal.
- Price has reversed to make a new 52-week high. 
- In this rally, price broke above a falling trendline, and the 50- and 100-week simple moving averages (SMAs).
- Meanwhile, the weekl RSI broke above 60, reflecting the end of the prevailing bearish momentum since 2015. 

Bullish targets:
- If the current rally extends into 2017, we can see another 15% or more rally.
- The 34.70-36.00 area is likely to provide resistance. It involves a couple of key support pivots and the 200-week SMA. 

GPS 4H Chart 11/18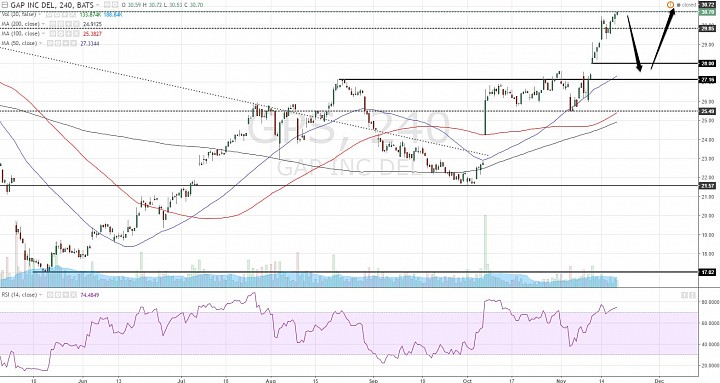 (click to enlarge)

Support around 28:
- The above excerpt from investopedia noted that there is a pullback after hours.
- The chart above does not show this pullback. 
- If the pullback materializes, we can expect support around the 27.15-28 area, if GPS is indeed in a bullish trend.