It appears "hope" is a strategy in Japan. Abe's nation emerged from recession in Q4 but with business spending (capex grew at a mere 0.1%) and private consumption (+0.3% - which Amari defined as "solid private demand supporting economic recovery") both coming in considerably below estimates, Japanese GDP QoQ SAAR grew at+2.2% (missing expectations of 3.7%) but real GDP growth was negative for the 3rd quarter in a row. Of course the GDP deflator grew at 2.3%, beating expectations, is desperately clung to by Japan's economy minster Amari as evidence of the end of deflation in Japan.
Real GDP growth negative for 3rd quarter in a row...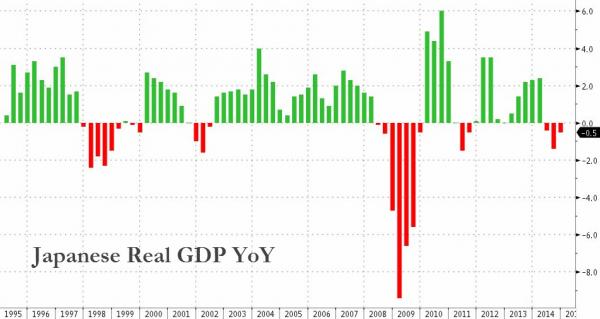 Japanese GDP Deflator surged (again) to 2.3% - its largest on record... (since 1995)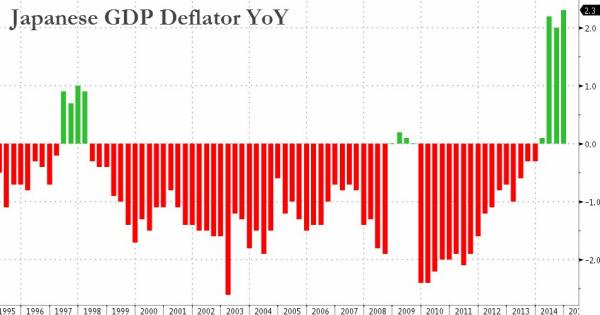 And on th eback of that load of crap... Japan's Economy Minister Amari said the following:
*AMARI: DEFLATOR SHOWS CONDITIONS FAVORABLE FOR DEFLATION EXIT
*AMARI: JOB, INCOME CONDITIONS MAY CONTINUE TO IMPROVE
*AMARI: HOPES FOR WAGE INCREASES AGAIN THIS YEAR
But
*AMARI: CONSUMER SENTIMENT HAS IMPROVED CONSIDERABLY
Which - as far as we remember - sentiment never actually spent any money... actions speak louder than surveys...
*AMARI: CONDITIONS FOR ECONOMIC UPTURN ARE FORMING
Oh yes they are... any year now..