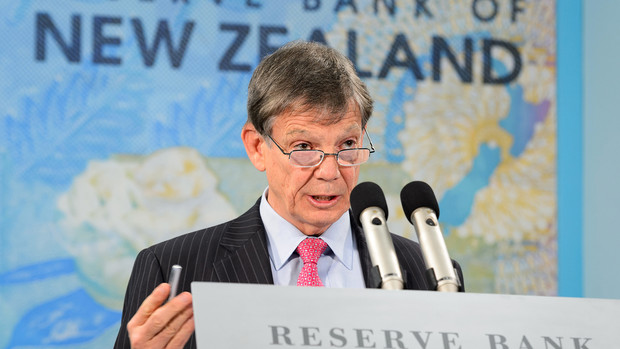 Photographer: Mark Coote/Bloomberg
Graeme Wheeler, governor of the Reserve Bank of New Zealand.
Reserve Bank of New Zealand Governor Graeme Wheeler signaled he's prepared to sell the nation's dollar to weaken it, saying the kiwi's current level is unjustified and unsustainable. The currency tumbled.
"The bank would welcome a move towards a more sustainable exchange-rate level," Wheeler said in an unscheduled statementtoday. "Unjustified and unsustainable are important considerations in assessing whether exchange-rate intervention is feasible."
Wheeler has been using similar language since May, signaling the RBNZ's key criteria for intervention are being met in an attempt to jawbone the currency lower. The kiwi is susceptible to a "significant downward adjustment" over the coming six to nine months, he said today.
"His code words, namely unjustifiable and unsustainable, would imply all hurdles for intervention have essentially been vaulted," said Craig Ebert, an economist at Bank of New Zealand Ltd. in Wellington. "It's strong language. The question is whether the bank will back it up with action."
The New Zealand dollar fell more than half a U.S. cent on the comments to 79.91 cents at 5:24 p.m. in Wellington, a one-year low. So far, monthly data published by the central bank show it hasn't intervened in currency markets significantly this year.
It sold a net NZ$2 million ($1.6 million) in July, when its intervention capacity was NZ$8.62 billion, the RBNZ said Aug. 28. Data for August are due Sept. 29.
Dairy Prices
In today's statement, Wheeler said another of the bank's criteria for intervention is that market conditions are conducive to it having an impact.
He also reiterated that the kiwi has not adjusted appropriately to a significant fall in the prices of New Zealand export commodities. Whole milk powder prices have slumped more than 40 percent since February.
"The bank's analysis indicates that the real exchange rate is well above its sustainable level, and also above levels justified by short-term business cycle factors," Wheeler said. "Past experience suggests that, when the New Zealand dollar begins depreciating from an unjustified and unsustainable level, the ultimate adjustment can be large."
Kiwi Strength
The kiwi rose above 88 U.S. cents in July, approaching its post-float record. It has fallen about 9 percent since then, reflecting the halt in the RBNZ's rate tightening and a weaker economic outlook. Still, the currency's relative strength has suppressed import prices and kept headline inflation below the 2 percent midpoint of the RBNZ's target range, masking domestic price pressures.
On July 24, Wheeler said the bank would pause after four interest-rate increases this year as the kiwi's strength continued to damp inflation. He said today that after a period of monitoring and assessment, "it is expected that some further policy tightening will be needed" to keep inflation contained.
The bank will raise its benchmark rate from 3.5 percent in the first quarter of 2015, according to the median forecast in a Bloomberg News survey of economists.
Today's statement from Wheeler is "a reminder of the potential for intervention," said Nick Tuffley, chief economist at ASB Bank Ltd. in Auckland. "It's easier to knock something over when it's already falling. He'll probably look at the half-cent drop and feel he's done a reasonable afternoon's work."
http://www.bloomberg.com/news/2014-09-25/rbnz-s-wheeler-says...