Jacobs Engineering Group Inc. JEC recently secured a design services contract from Florida's Turnpike Enterprise (FTE). The $125 million project is aimed at improving transit facilities of South Florida.
Jacobs follows a contract-based growth strategy and we anticipate the latest transportation deal to boost its organic growth trajectory. Notably, we notice that increased transit spending from the government authorities of Australia, UK and U.S. has been helping the company win a number of contracts for the past few quarters.
Over the last three months, shares of this Zacks Rank #3 (Hold) stock yielded a return of 3.08%, as against 1.81% loss incurred by the Zacks categorized Engineering/R&D Services industry.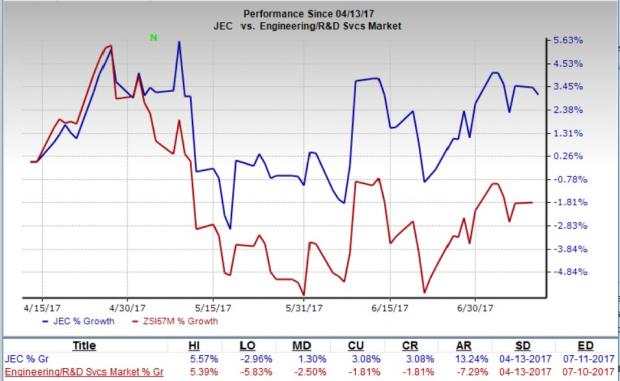 Inside the Headlines
FTE intends to widen over nine miles of the Sawgrass Expressway. Six lanes of this South Florida highway would be expanded to ten lanes, including two express lanes in each traffic direction.
Per the deal, Jacobs would design the renovation and rehabilitation framework for the FTE project. The company has remained FTE's maintenance, as well as operations consultant for the last 25 years. It intends to strengthen this commercial bond on the back of the above mentioned deal.
The Sawgrass Expressway project will likely improve the capacity and travel time consistency for the visitors and commuters of South Florida. Moreover, FTE intends to offer long-term mobility options on the back of this deal.
Stocks to Consider
Some better-ranked stocks in the industry are listed below:
KB Home KBH has an average positive earnings surprise of 12.47% for the last four quarters and currently boasts a Zacks Rank #1 (Strong Buy). You can see the complete list of today's Zacks #1 Rank stocks here.
D.R. Horton, Inc. DHI carries a Zacks Rank #2 (Buy) and has an average positive earnings surprise of 4.03% for the trailing four quarters.
Eagle Materials Inc EXP also holds a Zacks Rank #2 and has an average positive earnings surprise of 2.66% for the past four quarters.
More Stock News: 8 Companies Verge on Apple-Like Run
Did you miss Apple's 9X stock explosion after they launched their iPhone in 2007? Now 2017 looks to be a pivotal year to get in on another emerging technology expected to rock the market. Demand could soar from almost nothing to $42 billion by 2025. Reports suggest it could save 10 million lives per decade which could in turn save $200 billion in U.S. healthcare costs.
A bonus Zacks Special Report names this breakthrough and the 8 best stocks to exploit it. Like Apple in 2007, these companies are already strong and coiling for potential mega-gains. Click to see them right now >>
Want the latest recommendations from Zacks Investment Research? Today, you can download 7 Best Stocks for the Next 30 Days.
Click to get this free report
Eagle Materials Inc (EXP): Free Stock Analysis Report
Jacobs Engineering Group Inc. (JEC): Free Stock Analysis Report
KB Home (KBH): Free Stock Analysis Report
D.R. Horton, Inc. (DHI): Free Stock Analysis Report
To read this article on Zacks.com click here.