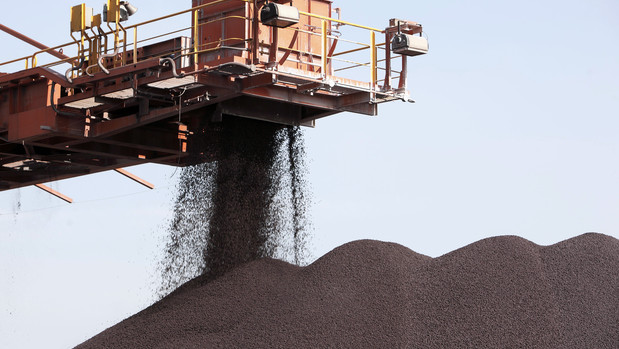 Photographer: Qilai Shen/Bloomberg
Iron ore is heading for an end-of-year rally as some high-cost supplies are closed and steel demand picks up, according to Morgan Stanley, which said prices may first extend losses by a few more dollars before rebounding.
The steel-making raw material will drop into the $70s-a-ton range in the near term, then rally toward $90 a ton by the end of the year, analyst Joel Crane said in a report today. The commodity, which slumped to the lowest level in five years this month, last traded at less than $80 a ton in September 2009.
Iron ore fell into a bear market this year as the biggest producers including Rio Tinto Group expanded low-cost output, betting higher volumes would more than offset falling prices while less-competitive mines were forced to close. Morgan Stanley's forecast for a rally in the final quarter follows a similar prediction last week from Vale SA, the world's largest supplier, which said prices may be poised for a rebound.
"We are of the firm belief that an adequate proportion of supply from the top end of the cost curve will come out, flatten the curve and ultimately secure levels of cost support," Crane wrote, referring to the potential loss of output from some of the highest-cost producers. The price should head back toward $90 a ton by year-end, said Crane.
Ore with 62 percent content at the Chinese port of Qingdao fell 39 percent to $82.38 a dry ton this year, according to data from Metal Bulletin Ltd. The commodity is heading for a third quarterly loss in the longest run of declines since 2009 amid forecasts for a surging global surplus.
Vale's View
Iron ore may rise to as much as $100 a ton by the end of the year because of declining inventory at ports, Vale Chief Executive Officer Murilo Ferreira told reporters on Sept. 12 in Beijing. Some producers are reducing exports given current prices, Ferreira said. China is the world's largest buyer.
In China, there's mounting evidence locally-mined supplies are starting to drop, Morgan Stanley's Crane wrote. Output, when adjusted to show the equivalent of 62 percent content, fell 13 percent between April and July year-on-year, he said.
"Market participants appear split on the floor price," Australia & New Banking Group Ltd. analysts including Mark Pervan wrote in a report today. While some are "thinking the resilience of Chinese iron ore supply will see prices fall below $80 a ton, while others firmly believe domestic output can't sustain current price levels for much longer."
Expanding Glut
Iron ore prices are unlikely to recover as the global surplus expands, Goldman Sachs Group Inc. said in a Sept. 10 report. The bank reduced its price forecast for the final three months of 2014 by 10 percent to $90, and also reduced full-year estimates for 2016 and 2017.
The structural nature of the surplus and a weak demand outlook in China make a recovery in prices unlikely, Goldman analysts Christian Lelong and Amber Cai wrote in the report. The global glut will more than triple to 163 million tons in 2015 from 52 million tons this year, and widen further to 245 million tons in 2016 and 295 million tons in 2017, it said.
Iron ore will drop to $75 in the second half of next year as rising low-cost supplies worsen the global surplus and a slowdown in China's property market curbs demand growth, CLSA Ltd. said in a Sept. 1 report. Increased production from mines in Australia and Brazil, the largest producers, will help to add about 94 million tons of new supply in 2015, CLSA forecast.
Credit growth in China missed estimates in July and new-home prices fell in almost all the cities the government tracks, putting pressure on policy makers to step up stimulus as they seek to meet an economic growth target of 7.5 percent. Data released Sept. 13 showed the weakest industrial-output expansion since the global financial crisis, and moderating investment and retail sales growth in the world's largest steelmaker.
"We think cost support lies between $90 and $100 a ton," Morgan Stanley said in the report today. "We expect prices to average in this range in 2014-2015."
source