Caterpillar has been growing dividends for the last 22 years and enjoys a sustainable competitive advantage.
However, Caterpillar is facing insurmountable headwinds, the likes of which it has never seen before.
Barring any global economic revival, the company could be forced to rethink its payout strategy within the next couple of years.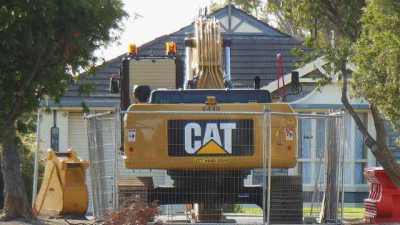 Caterpillar (NYSE:CAT) is one of the most reliable dividend payers. With a quarterly dividend of $.77, the company offers a generous yield of 3.9% at the current price level. That's higher than the S&P-500 average yield of 2.1% and peer average of 2.47%, according to data from Thomson Reuters. But more importantly, Caterpillar is from the rare group of companies that have been consistently growing dividends for more than two decades.
Generally speaking, when it comes to dividend investing, one of the safest companies are those that have been growing payouts for the last 25 years. The so called "dividend champions", such as Walmart (NYSE:WMT), Chevron (NYSE:CVX), Exxon Mobil (NYSE:XOM), Johnson & Johnson (NYSE:JNJ), 3M (NYSE:MMM) and Coca Cola (NYSE:KO), enjoy sustainable competitive advantage which allows them to earn reliable cash flows every year and reward shareholders with higher dividends, even during down cycles. Technically, Caterpillar is not a dividend champion since it hasn't grown payouts for 25 years on the trot, but 22 years of growth is still a remarkable record.
Caterpillar's sustainable competitive advantage is underpinned by its powerful brand, an enviable product portfolio, manufacturing scale and a strong dealer network spread in 131 countries. To call Caterpillar the world's leading construction and mining equipment manufacturer is actually an understatement. Caterpillar is either the industry leader or the second largest player in virtually every product market that it serves. It alone commands a little less than one-fifth of the global construction equipment space. With a market cap of $46.14 billion...
More