On Monday, May 30, Indian benchmarks showed positive performance. Notably, the quarterly earnings results released by 54% of Sensex companies matched or overshot analysts' expectations.
In addition, tomorrow, May 31, India's Q4 GDP is due out. The median consensus calls for 7.5% y-o-y growth against 7.3% y-o-y in the third quarter.
The Nifty 50 ticked up 0.27% to 8,178.50, while the BSE Sensex 30 climbed 0.27% to 26,725.60. To remind, the Nifty 50 reached a six-month high.
On the Nifty 50, Hindalco Industries and Cairn India outperformed the broader market, adding 12.02% and 4.38, respectively. Bharat Heavy Electricals and Zee Entertainment Enterprises were out of luck, retreating 5.78% and 2.10%, respectively.
On the BSE Sensex 30, Hindalco Industries also paced the gains, spiking 12.03%. Bharat Heavy Electricals topped the decliners, dropping 5.81%.
Leading coal producer Coal India surged 4%, the steepest gain in the last three months.
Aluminum producer Hindalco Industries spiked 12.02% after the company reported a two-fold increase in its profit.
Power plant equipment producer Bharat Heavy Electricals shed 5.78% after the company's profit missed analysts' expectations.
On the currency market, USD/INR rose 0.27% to 67.215, while EUR/INR increased 0.51% to 74.8700.
The Indix VIX, a volatility index based on the Nifty 50 index option prices, rose 4.69% to 15.9750.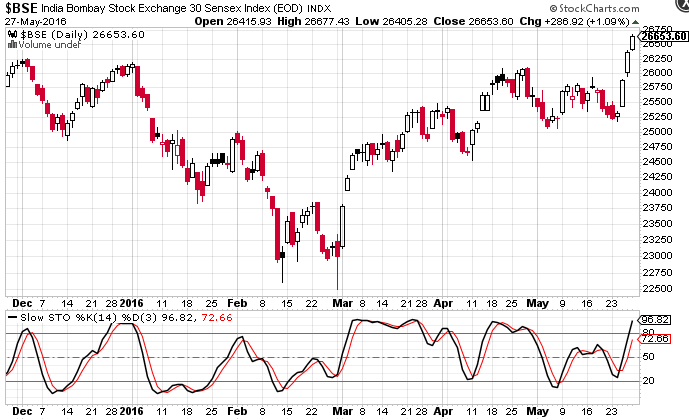 The BSE Sensex 30 jumped toward 26,655. Meanwhile, stochastic lines are in overbought territory and this means upside potential is limited.