Silver in China has been the most expensive relative to London in about three years as exporters stepped up overseas shipments to qualify for a tax rebate, draining inventories of the metal.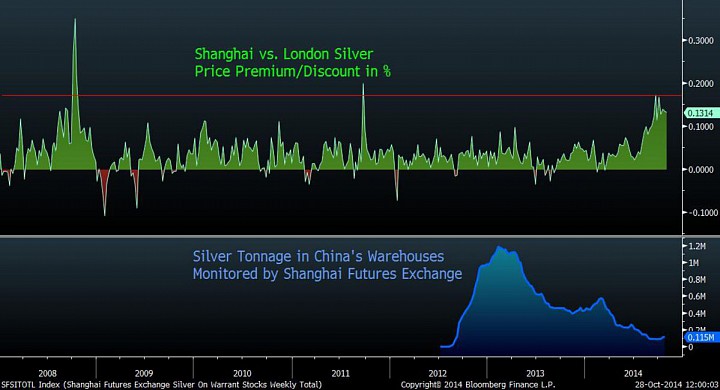 The CHART OF THE DAY tracks the price difference between an ounce of silver in Shanghai and London, with the Chinese price hitting a 17 percent premium this month and last, according to Shanghai Gold Exchange data. The spread was higher only twice in the last six years. The lower panel shows that supply in warehouses monitored by the Shanghai Futures Exchange have dropped to 115 metric tons, down 80 percent from this year's peak in February. The decline is due to exporters boosting shipments by classifying ingot as acoustic wire, said Liu Xu, a precious-metals analyst at Capital Futures Co. in Beijing.
"It's an open secret in the local silver industry that a lot of exports have been thinly-veiled attempts to profit from tax rebates," Liu said. "There isn't that much demand overseas for acoustic wire for stereos. Yet a lot of shipments this year have been labeled as wire."
Silver-made electrical conductors, such as acoustic wire, are a category of finished product entitling exporters to a 17 percent tax rebate, an incentive paid by the government to encourage domestic high-end manufacturing.
China was mainly a net exporter of silver until 2010, when it swung to a net importer amid increased demand for silver powder from the solar-power industry, according to Beijing Antaike Information Development Co. The government started phasing out tax rebates for raw silver shipments that year, the metals researcher said in a report published Oct. 20.
The government may soon close the loophole as the higher local premium has also spurred smuggling of the metal back into the country, according to Liu. Shenzhen's customs office said on Oct. 15 that it confiscated 400 kilograms of silver ingots smuggled in from Hong Kong. No one answered two calls yesterday to the General Administration of Customs' press office.