Infineon Technologies AG IFNNY reported third-quarter fiscal 2017 adjusted earnings of 26 cents per share, which missed the Zacks Consensus Estimate by a couple of cents but surged 23.8% on a year-over-year basis.

Moreover, revenues increased 12.2% year over year to $2.01 billion in the quarter, which lagged the Zacks Consensus Estimate of $2.08 billion. The top-line growth came on the back of strong sales across all the four business segments. Power represents almost 60% of revenues in the reported quarter.

The quarterly results demonstrated Infineon's strong growth prospects in the automotive market (42% of total revenue). The company's products are currently used by eight of the top-10 electric vehicle makers including Tesla TSLA, BMW and Renault.

Per Reuters, Infineon will supply parts to Tesla's upcoming Model 3 electric car, which is now ramping up for volume production in 2018.

Infineon Technologies AG Price, Consensus and EPS Surprise
Infineon Technologies AG Price, Consensus and EPS Surprise | Infineon Technologies AG Quote
Infineon holds a dominating position in the xEV power semiconductor market. Over the last three quarters, design wins almost doubled as compared with numbers in fiscal 2016. Management stated that cumulative xEV design wins reached about €2.5 billion in the last three years. Moreover, the company's focus on developing energy-efficient solutions is a key catalyst.

Infineon's stock has gained 27.6% year to date, slightly outperforming the rally of the industry it belongs to.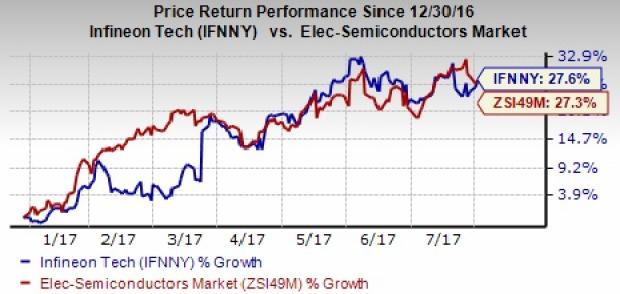 Quarter Details

Automotive (ATV) revenues increased 13.1% year over year to $842.3 million. Management noted continued high demand for driver assistance systems and products deployed in hybrid and electric vehicles during the quarter.

Industrial Power Control (IPC) revenues increased 14.6% year over year to $353 million. The segment is benefiting from strong demand in home appliances, traction, electric drives, photovoltaics and wind power.

Power Management & Multi-market (PMM) revenues increased 9.9% on a year-over-year basis to $612.5 million. Strong demand in AC/DC and DC/DC conversion were noticeable in the quarter.

Moreover, Chip Card & Security (CCS) revenues increased 6.9% from the year-ago quarter to $203.4 million.

Segment-wise, ATV, IPC and PMM operating margins expanded 130 basis points (bps), 180 bps and 640 bps, respectively. CCS operating margins contracted 10 bps from the year-ago quarter.

In total, operating margin expanded 440 bps on a year-over-year basis to 16.3%.

Guidance

For fiscal 2017, revenues are expected to grow in the range of 8–11%. Segment margin is projected to be almost 17% at mid-point of the guidance, despite significant headwind from the weak U.S. dollar in comparison to Euro.

ATV and IPC segment revenues are expected to grow above the company's growth average, while PMM and CCS revenues are projected to grow below.

Capital expenditure is anticipated to be almost €1.05 billion (approximately $1.21 billion at $/€ exchange rate of 1.15) including roughly €35 million for the new office building at Infineon's headquarters in Neubiberg near Munich.

Fourth-quarter fiscal 2017 revenues are expected to be similar to the third-quarter level at €1.83 billion, primarily due to the weak U.S. dollar in comparison to Euro. Segment margin is projected to be almost 18%.

Zacks Rank & Key Picks

Infineon currently sports a Zacks Rank #1 (Strong Buy). Applied Optoelectronics AAOI and Broadcom AVGO are other stocks worth considering in the sector sporting the same Zacks Rank. You can see the complete list of today's Zacks #1 Rank stocks here.

Long-term earnings growth rate for Applied Optoelectronics and Broadcom is currently pegged at 15.5% and 13.6%, respectively.
More Stock News: Tech Opportunity Worth $386 Billion in 2017
From driverless cars to artificial intelligence, we've seen an unsurpassed growth of high-tech products in recent months. Yesterday's science-fiction is becoming today's reality. Despite all the innovation, there is a single component no tech company can survive without. Demand for this critical device will reach $387 billion this year alone, and it's likely to grow even faster in the future.
Zacks has released a brand-new Special Report to help you take advantage of this exciting investment opportunity. Most importantly, it reveals 4 stocks with massive profit potential.
Want the latest recommendations from Zacks Investment Research? Today, you can download 7 Best Stocks for the Next 30 Days.
Click to get this free report
Tesla Inc. (TSLA): Free Stock Analysis Report
Infineon Technologies AG (IFNNY): Free Stock Analysis Report
Broadcom Limited (AVGO): Free Stock Analysis Report
Applied Optoelectronics, Inc. (AAOI): Free Stock Analysis Report
To read this article on Zacks.com click here.
Zacks Investment Research