It used to be that taking a 10-minute walk around SoHo meant passing by at least a dozen upstart, trendy fashion retailers eager to sell you a $500 hoodie or $1,000 pair of sneakers.  But these days you're much more likely to see a whole bunch of this: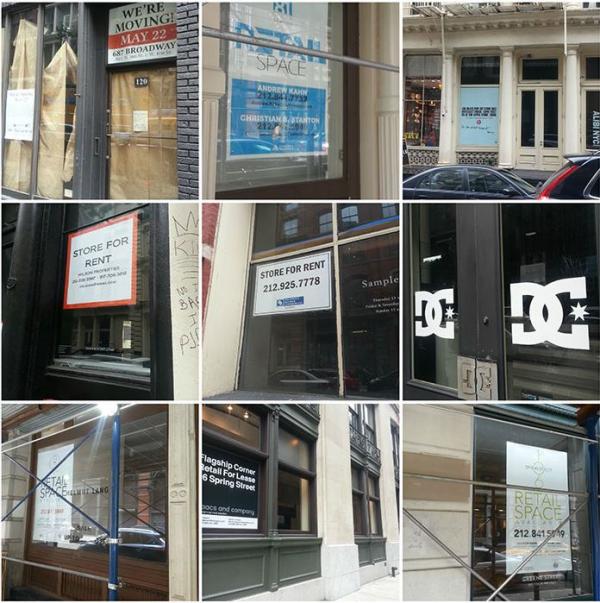 As Bloomberg points out this morning, in the wake of Manhattan's retail drought, commercial landlords, who have seen retail occupancy levels plummet over the past 12 months, are doing everything possible to avoid big price cuts.  Instead, like residential landlords, commercial real estate owners are providing massive rent concessions through things like interior redesigns and moving expenses to keep storefronts from going empty.
Tenant-improvement allowances haven't been typical in the Manhattan retail market. But now the concessions, which can pay for anything from lighting and displays to a complete overhaul, are becoming a key component in some new leases, particularly for large, flagship stores in high-profile areas, such as Madison Avenue and Fifth Avenue, according to Steve Soutendijk, an executive director at brokerage Cushman & Wakefield Inc.

 

"We're seeing tenant-improvement and concession packages that retail landlords never, ever contemplated before," he said.

 

The sweeteners signal that the balance of power is tilting toward merchants in Manhattan after a relentless surge in rents during the past five years. Landlords facing rising vacancies are more willing to negotiate with retailers, who have gotten battered by the rapid rise of e-commerce and have shied away from committing to costly, long-term leases.

 

The incentives are "a creative solution that landlords are using now to get deals done," said Jeffrey Roseman, an executive vice president at Newmark Grubb Knight Frank Retail. "It's a way to get over the hump."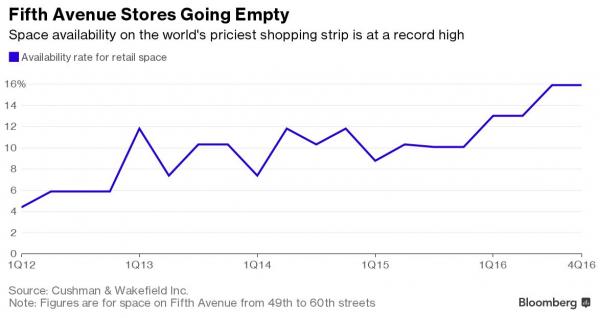 And a perfect example of NYC's desperation to fill retail store frontage comes from a 15-year lease the Nike just signed on a 70,000 sq. ft. space on 5th Avenue.  In order to fill a space that has been empty since 2013, landlords SL Green and Jeff Sutton agreed to, among other things, take over Nike's existing lease at another location.
In the city's largest retail lease of 2016, Nike in December signed a 15-year agreement to rent 69,214 square feet across seven floors at 650 Fifth Ave. in Midtown. Landlords SL Green Realty Corp. and Jeff Sutton had been working to fill the space since acquiring the property in 2013. They bought out the leases of Devon & Blakely and Godiva and committed to adding three additional floors and rerouting the storefront's entrance, according to a presentation in December for SL Green's investors.

 

"That deal did not come easy by any stretch," Andrew Mathias, president of SL Green, said while discussing the Nike lease at the investor conference.
Nike Deal.

 

As part of Nike's deal at 650 Fifth Ave., the landlords offered to take over the company's lease obligation at an existing store about five blocks away and adjacent to Trump Tower, according to a person with knowledge of the transaction who asked not to be named because the terms are private.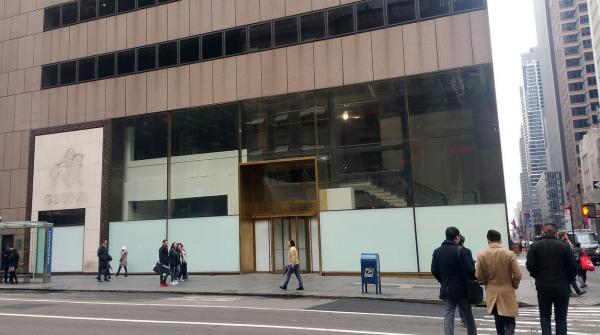 As The Real Estate Board of New York recently noted, retails rents in Manhattan are down pretty much across the board with rents in trendy areas like SoHo off around 10% YoY and high-end store frontage on the Upper East Side down a staggering 24%. 
Increasing retail inventory and a slower retail sales environment in New York City have started to affect  ground floor asking rents in Manhattan's most prominent retail corridors.  The Real Estate Board of New York's (REBNY) Fall 2016 Manhattan Retail Report shows that average asking rents declined in 11 of the 17 retail corridors surveyed, which is a shift from Spring 2016 when availability was accumulating in some corridors, but the effect on asking rents was subdued.

 

Madison Avenue, between 57th and 72nd Streets, on the Eastside is one such corridor that is suffering from an increased availability of ground floor retail spaces.  As the corridor's inventory level rose in Fall 2016, the average asking rent decreased eleven percent to $1,433 per square foot from $1,613 in Fall 2015.  Additionally, an increase in the availability for less expensive ground floor spaces in the corridor caused a 22 percent drop in the median asking rent to $1,350 from $1,728 per square foot last year.

 

Increased retail inventory has also hurt asking rents Downtown in SoHo, on Broadway between Houston and Broome Streets.  The average asking rent for ground floor space in this corridor fell nine percent to $755 per square foot from $831 last fall. 

 

Midtown South asking rents in Herald Square on West 34th Street, between Fifth and Seventh Avenues, fell eleven percent year-over-year from $836 to $745 per square foot of ground floor space.  This decline was caused by a combination of increased supply and supply being concentrated on the south side of the corridor.  Spaces on the north side of West 34th Street typically offer wider street frontage, while spaces on the south side are usually smaller and more limited in frontage.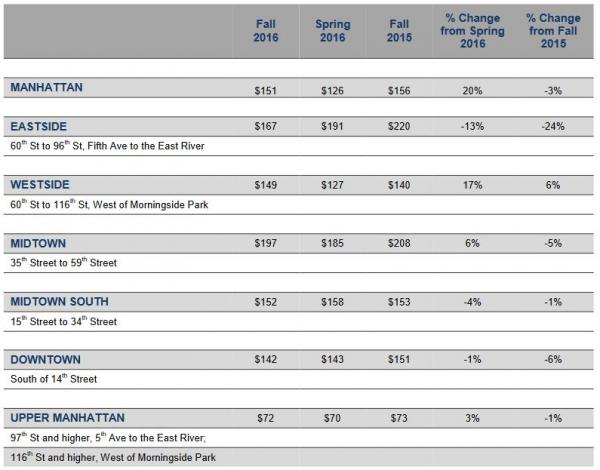 Seems the retail rents are just "too damn high."