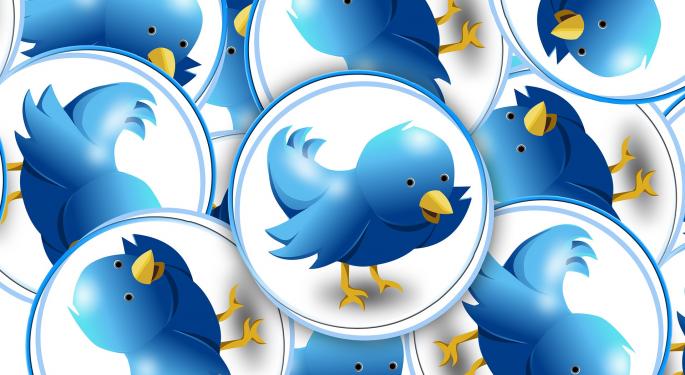 Another huge day for Twitter Inc TWTR 6.97% has the stock trading above $21 per share, up 7.7 percent in Monday's session. The stock is surging on reports that Twitter is working with Apple Inc. AAPL 1% on an Apple TV app that will allow users to watch NFL football games.
Early in Monday's session, Benzinga asked users if Twitter stock would close Monday's session above $20 for the first time since January.
As the stock continued to rise throughout the morning, Twitter users saw the writing on the wall. More than 80 percent of respondents predict a $20+ close.
Related Link: The Street Has Already Shrugged Off Twitter's Poor Q2 Earnings
Less than two weeks ago, when Twitter's stock was trading in the $17.70 range, Benzinga asked Twitter users where they thought the stock would be six months from now. An impressive 70 percent of those surveyed predicted that the stock would either be above $20 per share or taken over by a buyer by February 2017.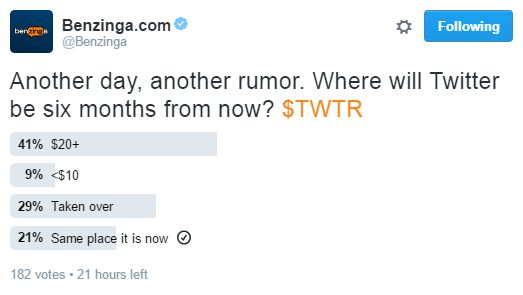 Only 9 percent of respondents believed the stock is headed for the single digits, while 21 percent predicted the stock will end up back around the $17 level.
The 41 percent of respondents that predicted a push above $20 came in about 5.5 months ahead of schedule on their predictions. Despite the huge move in Twitter shares in the past couple of months, Twitter's stock remains down 27.6 percent in the past year.
© 2016 Benzinga.com. Benzinga does not provide investment advice. All rights reserved.