Amazon's shares will reach $410 in medium term

6 march 2015
The world largest internet retailer Amazon.com announced that it opened a store on Alibaba Group's Tmall.com marketplace, seeking to reach Chinese shoppers as the company tries to expand in the world's second-biggest economy.
Amazon is a household name for US shoppers, but the company has faced an uphill battle in China, where Alibaba dominates the growing e-commerce market. Alibaba Group's Tmall and Taobao, another online marketplace, had 334 mn active buyers in 2014. While Taobao is a bazaar-like platform for small merchants where almost anyone can be a seller, Tmall mainly hosts larger retailers, including major US brands such as Apple, Nike and Gap. Chinese e-commerce companies such as Dangdang and Yihaodian also run their flagship stores on Tmall. E-commerce in China is projected to reach $1.01 trillion in 2018, more than doubling from $426.3 bn in 2014, according to EMarketer.
Amazon has taken a very aggressive stand to maintain supremacy in its chosen markets and fourth quarter numbers indicate that it is making progress. Q4 revenue increased 15% year over year, while adjusted EBITDA jumped 32%. I believe that Amazon's advantages – vast selection, competitive pricing, free shipping, user experience on Amazon properties and the Amazon Prime program – will allow the company to continue to grow revenues and generate very strong cash flows.
I believe that Amazon's shares look nice for medium-term investment. Target price is $410.
<!== INSTRUMENT %% %1440% ==!>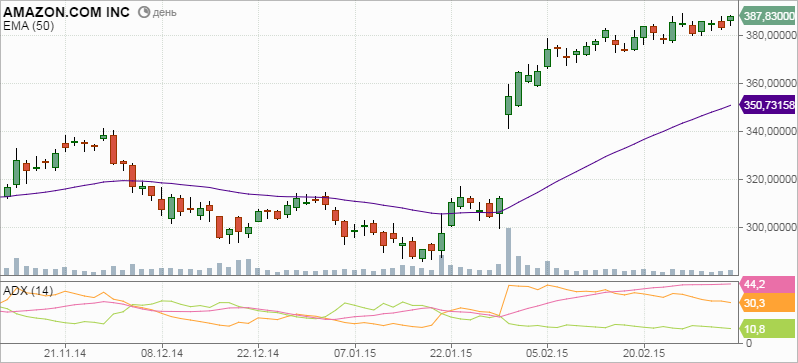 Voting is over
Waiting for


the right answer