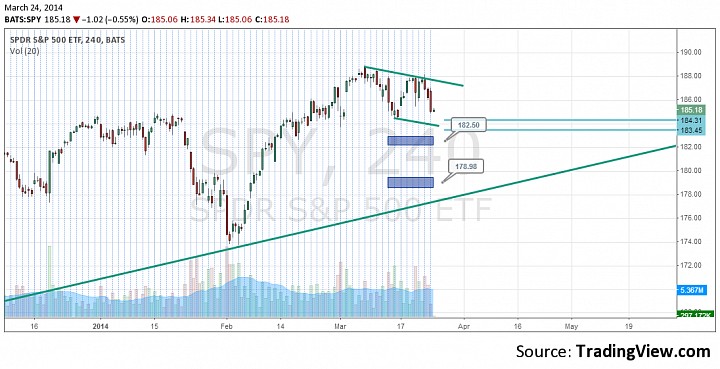 ---
Trade better: Stocks, Futures, Forex
---
SP500 is in a bearish retracement at the moment, but it is not as bearish as it may appear. 
---
Observing from a 4 hour time frame, notice the upward trend line that was most recently touched in the beginning of February. Current price action is no where near this trend line.  In addition, based on the most recent upswing, the first level of trend support is at the 182.50 area. Just above that price area is a minor support just below the recent swing low: 184.31 - 183.45. 
---
I am looking for bullish price action in  this support area. It can be validated by an inside bar, hammer or bullish engulfing on a 1 hr or 4 hour chart in the next day or two.  
---
In my opinion this is a buying opportunity for SPY shares or stocks that correlate highly  with this index. Risk can be defined by a sustained break below the 182 area. Since this is a broader time frame analysis, profit potential is greater, especially since this trade idea is on the side of the broader trend which is bullish. Any push back up into the 185 - 186 area would be a conservative target area.
---
Since the bigger picture is bullish, I would try and hold on to small positions to see if new highs can be made in the next week or two. 
---
If price collapses, then the next area of support before the trend starts to show signs of change is the 179 area. Good to note the area and observe price action carefully if the opportunity presents itself.
---
To learn more about the methodology that I use to conduct my analysis and trades, visit my info page.