On Jul 3, we issued an updated research report on waste removal services provider, Waste Connections, Inc. WCN.
Waste Connections is an integrated solid waste services company that provides waste collection, transfer, disposal and recycling services across the U.S. and Canada. The company has outperformed the Zacks categorized Waste Removal Services industry in the last three months with an average return of 10.2% compared with 2.3% gain for the latter. Waste Connections typically targets secondary and rural markets to garner a higher local market share, which would be difficult to attain in more competitive urban markets. In certain niche markets like E&P waste treatment and disposal, early mover advantage in certain rural basins play a key role in improving market positioning and generating higher financial returns, given the limited availability of existing third-party-owned waste disposal alternatives. The company focuses on increasing market penetration and offering additional services to capitalize on future drilling opportunities in those areas. Waste Connections also aims to leverage its franchise-based platforms to expand customer base beyond the exclusive market territories. As customers are added in existing markets, revenue per routed truck increases, which increases collection efficiencies and profitability.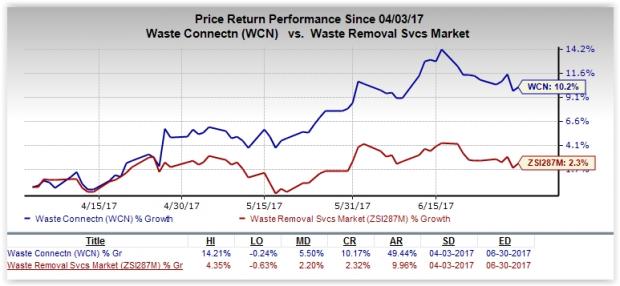 With prime location of disposal sites within competitive markets, Waste Connections has optimal asset positioning to generate higher profitability. Given the importance of and costs associated with the transportation of waste to treatment and disposal sites, having disposal capacity proximate to the waste stream offer a competitive advantage and serve as a barrier to entry. An experienced management team, decentralized operating strategy and financial strength remain additional tailwinds.
However, the volatility in crude oil prices is expected to impair profitability and creditworthiness of Waste Connections and adversely affect the level of investment and linear feet drilled in the basins where it operates. It may further impact the ability of E&P companies to access capital on economically advantageous terms. This, in turn, is likely to reduce the demand for its services, thereby affecting both top line and bottom line.
Waste Connections' revenues are highly seasonal due to lower volume of solid waste generated during winter and early spring owing to comparatively lesser construction and demolition activities and reduced E&P activity. Severe cold weather conditions further slow down waste collection activities, resulting in higher labor and operational costs. The seasonality is also attributable to lower drilling programs and lower volumes of E&P waste during mild winter conditions. All these seasonal factors lower predictably in revenue generation and increase operating risks.
Waste Connections currently carries a Zacks Rank #3 (Hold). Some better-ranked stocks in the industry include Republic Services, Inc. RSG, Advanced Disposal Services, Inc. ADSW and Publicis Groupe S.A. PUBGY, each carrying Zacks Rank #2 (Buy). You can see the complete list of today's Zacks #1 Rank (Strong Buy) stocks here.
Republic Services has a long-term earnings growth expectation of 9.2%. It beat earnings estimates thrice in the trailing four quarters with a positive surprise of 3.6%.
Advanced Disposal surpassed earnings estimates thrice in the trailing four quarters with a positive surprise of 227.78%.
Publicis Groupe has a long-term earnings growth expectation of 9.5%.
5 Trades Could Profit "Big-League" from Trump Policies

If the stocks above spark your interest, wait until you look into companies primed to make substantial gains from Washington's changing course.

Today Zacks reveals 5 tickers that could benefit from new trends like streamlined drug approvals, tariffs, lower taxes, higher interest rates, and spending surges in defense and infrastructure. See these buy recommendations now >>
Want the latest recommendations from Zacks Investment Research? Today, you can download 7 Best Stocks for the Next 30 Days.
Click to get this free report
Publicis Groupe SA (PUBGY): Free Stock Analysis Report
Republic Services, Inc. (RSG): Free Stock Analysis Report
Waste Connections, Inc. (WCN): Free Stock Analysis Report
Advanced Disposal Services Inc. (ADSW): Free Stock Analysis Report
To read this article on Zacks.com click here.
Zacks Investment Research