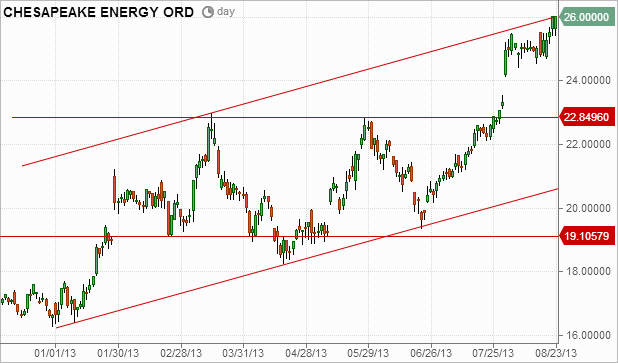 If you have been watching Chesapeake Energy, you may be wondering when is a good time to buy or sell. Above is some technical analysis you may want to consider.
Yesterday we learned that oil production is booming in Texas' Eagle Ford, up 60% from last year. Chesapeake Energy is the second largest leaseholder in the Eagle Ford. The Eagle Ford is a rock formation in Texas where Chesapeake Energy began to drill in 2009. Today the company is able to extract about 145,000 barrels of oil per day. 
Chesapeake Energy is the second largest producer of natural gas.  Currently Chesapeake is operating in four major shale formations across the United States including the Marcellus Shale. The Marcellus Shale is thought to be the largest reservoir of natural gas in the United States and is located in the largest natural gas consuming region of the United States.
Its clear that investors that are interested in Chesapeake Energy should keep an eye on the stock price in the coming months. According to Heather Ingrassia of Seeking Alpha investors should keep a close eye on production in the Eagle Ford formation in Texas and the four major natural gas locations. (Barnett Shale, Bossier Shale, Haynesville Shale, Marcellus Shale)