The European Commission has unconditionally approved The Priceline Group Inc.'s PCLN deal to take over Momondo Group from Boston-based private equity firm Great Hill Partners. The deal is worth $550 million which is now expected to be completed soon.
Momondo Group operates momondo, a travel metasearch site that provides hotels flights and car rentals and Cheapflights, a global flight comparison and travel-deals publishing platform.
Post acquisition, Momondo will be absorbed into Priceline's travel meta brand, Kayak.
In the last one year, the stock has outperformed the Zacks Electronic Commerce industry. It has increased 83% compared with the industry's gain of 51.5%. The company continues to witness strong growth in its international markets.
More Into the Headlines
The EU antitrust regulators believe that the deal will not raise any competition concerns in the European Economic Area. The merged entity will continue to face competition from other operators such as Trivago TRVG, TripAdvisor TRIP or Alphabet's GOOGL Google.
The European Commission said, "The proposed transaction would raise no competition concerns on any of the markets examined".
The Deal Expands Priceline Share in Europe
Priceline generates bulk of its business from international markets where growth prospects are more than in the domestic market. According to PhoCusWright, online travel booking in Europe is growing faster than in the U.S.
Since Priceline is strongly positioned here, it will be able to benefit from increasing penetration rates through Momondo. Over the years, Kayak has failed to gain much traction in Europe. However, the addition of Momondo might help it to consolidate its presence in this market.
The Priceline Group Inc. Price and Consensus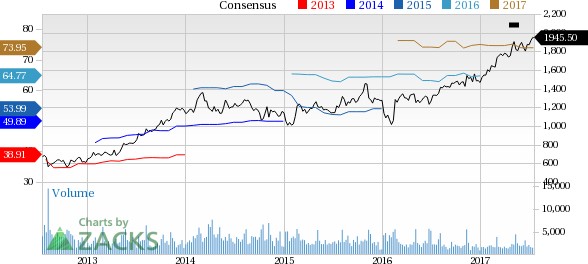 The Priceline Group Inc. Price and Consensus | The Priceline Group Inc. Quote
Zacks Rank
Priceline has a Zacks Rank #4 (Sell). You can see the complete list of today's Zacks #1 Rank stocks here.
5 Trades Could Profit ""Big-League"" from Trump Policies
If the stocks above spark your interest, wait until you look into companies primed to make substantial gains from Washington's changing course.
Today Zacks reveals 5 tickers that could benefit from new trends like streamlined drug approvals, tariffs, lower taxes, higher interest rates, and spending surges in defense and infrastructure. See these buy recommendations now >>
Want the latest recommendations from Zacks Investment Research? Today, you can download 7 Best Stocks for the Next 30 Days.
Click to get this free report
The Priceline Group Inc. (PCLN): Free Stock Analysis Report
TripAdvisor, Inc. (TRIP): Free Stock Analysis Report
Trivago N.V. ADS (TRVG): Free Stock Analysis Report
Alphabet Inc. (GOOGL): Free Stock Analysis Report
To read this article on Zacks.com click here.
Zacks Investment Research