Summary
Some things to keep in mind before Chevron Corporation reports its Q3 2015 results on October 30.
Watch where Chevron trims spending going into 2016.
Plenty of financial firepower remains on its balance sheet, as current assets exceed current liabilities.
Look for comments regarding Chevron's LNG trifecta, Permian growth engine, and Guyana exploration effort.
After another volatile quarter that saw crude prices move back below $40/barrel before rallying at the beginning of Q4, Chevron Corporation (NYSE:CVX) gets ready to report its Q3 2015 results on October 30.
This will be Chevron's last quarterly report before 2016, placing a greater emphasis on management to explain what shareholders should be ready for going into 2016. After an aggressive outspend during the first half of this year, investors will want to know how Chevron plans to shore up its financials.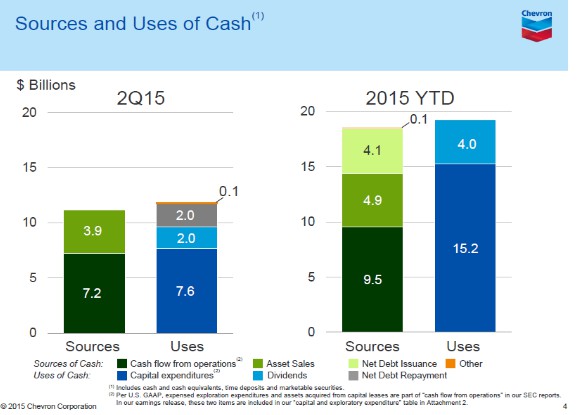 Source: Chevron Corporation Presentation
As you can see, Chevron's cash flow generation didn't come anywhere close to covering its spending levels. In Q1, Working capital changes took a big bite out of Chevron's cash flow and had to be supplemented through asset sales and debt issuance. By the second quarter, Chevron was able to dramatically lower its outspend (cash flow minus capex + dividends) to $2.4 billion, but that is far from ideal. Investors should note where Chevron's outspend lands up in Q3 after energy prices moved lower compared to Q2.
Faced with weak cash flow generation, Chevron is aggressively pursuing third-party rate reductions, faster drilling times (particularly in shale), and other efficiency gains to further reduce its expenditures without impacting its growth guidance.
Plenty of financial firepower left
In the face of a bleak oil and gas environment, Chevron has more than enough liquidity to keep riding out the storm. Below is a look at its balance sheet, where current...
More