Current price: $78.11.
Target price (1m): $79.68
Analyzing financial sector companies it would be mistake to look at the banks only. Today we decide to have a better view of Visa – multinational payment system.
On November 2, the Q3 results were released which dropped the share price 3% down, which gave the negative signal for investors. The same day it was announced that Visa would buy Visa Europe for $23.4 Billion. After that, prices went high. Anyway, Visa is very strong security and we have a recommendation of "strongly buy". Here are the answers for the question "Why?":
Dividend as proportion of free cash flow (FCF) is 18%. Keeping the proportion on the same level, company will increase FCF in next 2 years (because of the merging with Visa Europe), which will increase dividends as well;
Visa's earnings grow annually (16.14% rate is expected annually);
In 2010 Visa's dividend yield was 0.75%, now it is lower (0.б4%) and it is expected that in 2016 Visa will pay 59 cents per share (moving yield to 0.75%).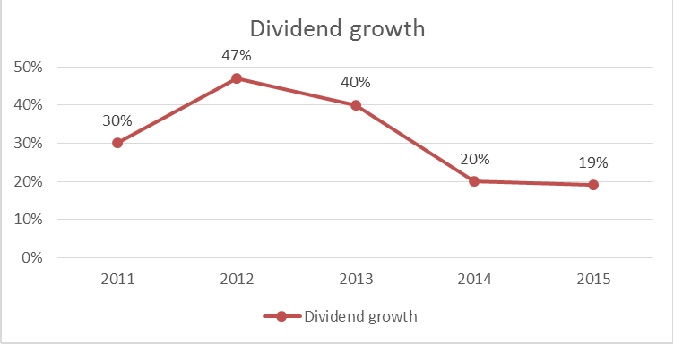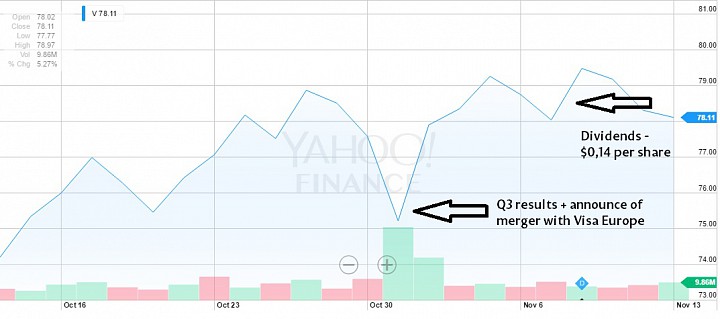 Yes, Visa's dividends are very low, but they are stable, which gives Visa a lot of advantage. In combination with Visa Europe merger, it would be more possibilities for Visa to improve the result. Anyway, the economy is moving towards the cashless society and in that new world, there must be a place for such a company like Visa.