Amid the collapse in commodities, crashing Chinese stocks, the weakest US wage growth in US history, and a data-dependent Fed; Goldman Sachs fears the new normal is 'shorter-and-faster' business cycles with no persistence primed by monetary policies. Most wprryingly, they conclude, will short business cycles beget shorter business cycles?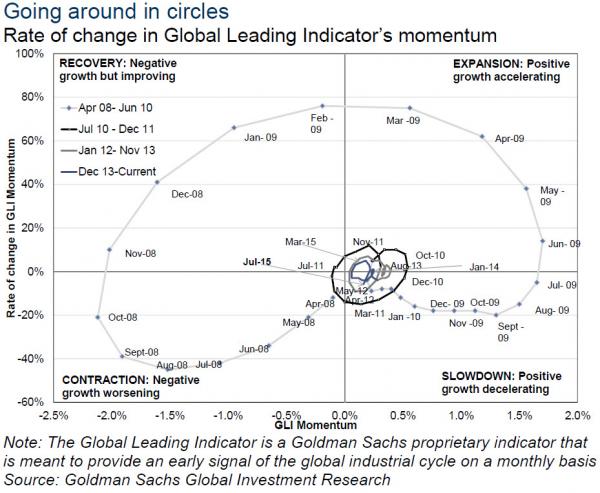 As Goldman notes,
Cycles: Shorter and faster

 

Another factor keeping capex weak is poor visibility on global growth.

 

The rate of change in our economists' Global Leading Indicator, which tracks ten early indicators of global activity, suggests that cycles are becoming shorter over the last few years, i.e. neither positive nor negative data points persist for too long.

 

This uncertainty provides a reason for companies to delay long-term capex and instead opt for as-a-service alternatives that provide greater flexibility. But, extending this argument on outsourcing capital intensity to its extreme would also imply shorter capex cycles for the users. If the advent of ERP software led to more efficient supply chains and shorter inventory cycles, we wonder if the rise in tech-driven services business models could do the same for capital investment cycles.
In other words, will short business cycles beget shorter business cycles?