The USD/CAD has been coiling throughout February. It looked to uncoil when it broke above a descending triangle, but despite some increase in volatility direction was not established, and sideways trading continued as we can see in the 4H chart.
USD/CAD 4H Chart 3/2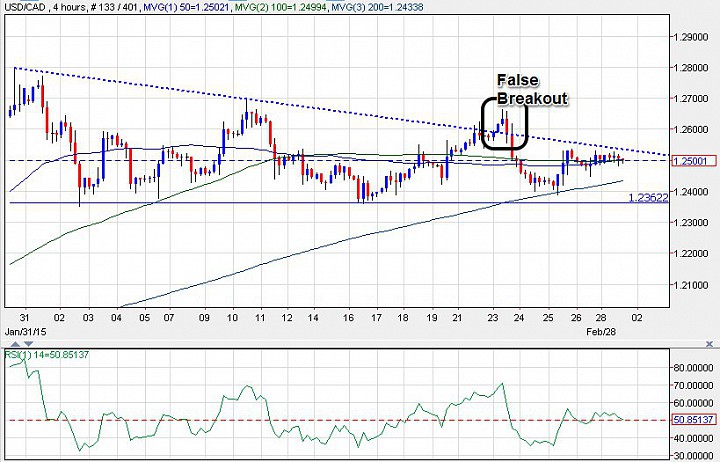 (click to enlarge)

Usually, when there is a false break to one side, the support or resistance on the other side will become vulnerable. This is especially the case if the false break was against the direction of the prevailing trend. Here, the false break was IN the direction of the trend ,and the support in the 1.2360-1.24 area held.

Also, note that the 200-, period SMA acted as support, while the 4H RSI held above 40 for the most part, preserving the prevailing bullish momentum, just barely. 

Now, price is in a near-term holding pattern around 1.25. Let's take a look at the 1H chart.

USD/CAD 1H Chart 3/2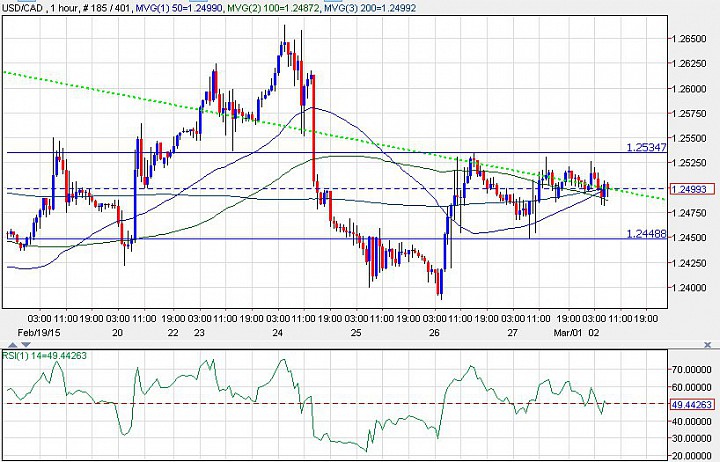 (click to enlarge)

If price pushes above 1.2535, we are likely in a bullish continuation at least back towards the highs around 1.2650. Above that, the 1.28 area will be in sight. A break below 1.2448 should put pressure back on the triangle support in that 1.2360-1.24 area. A break below 1.2360 would be a key moment in USD/CAD as it would establish a price top and signal further medium-term consolidation, with some short-term bearish correction outlook towards 1.21, 1.20.