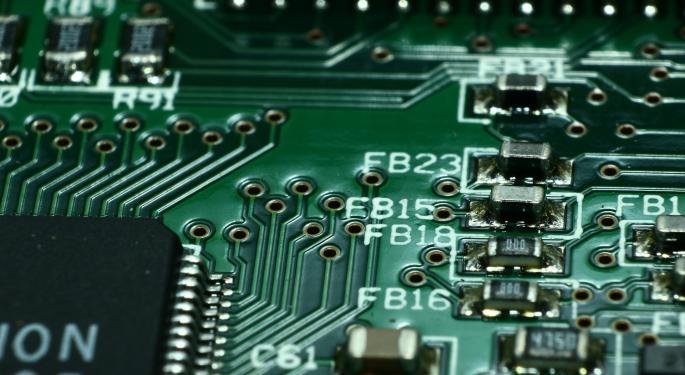 Summit Redstone analyst Kinngai Chan's latest channel checks on the semi space show headwinds ahead for most of the industry.
The analyst believes only NVIDIA Corporation NVDA 0.03% and Western Digital Corp WDC 0.51% are in position to meaningfully grow in the near and medium-term, rating them both Buy.
Nvidia (Buy)
Nvidia stands to benefit from a wide range of applications such as datacenter, autonomous vehicles and mobile gaming. Chan noted particular improvement in the company's PC gaming segments during the past quarter.
Datacenter competition from Intel Corporation INTC 0.17% could "create some lumpiness" in Nvidia's CGPU demand, but the latter's new Volta product cycle should beat consensus going into 2018.
Western Digital (Buy)
The industry's pricing for flash and SSD are "extremely favorable" for Western Digital, according to Chan, adding that "the ramp of [Western Digital]'s 64-layer 3D NAND and a higher SSD mix towards [the second half] will drive gross margins and earnings above consensus."
Some investors have voiced concern over the company's fight against Toshiba for the joint-venture chip business but Chan sees no reason for it, noting that regardless of who buys the business, the owners will ensure sufficient investment to maintain leadership in the future.
Seagate is Summit Redstone's only Sell-rated semi stock. Simply put, the industry's dynamics are against it.
Cannibalization of HDD by SSD in the client and datacenter markets will create headwinds for Seagate's earnings growth. Other analysts have also downgraded the stock to Sell in the face of intense competition from Western Digital.
Intel (Hold)
Chan rates Intel shares at Hold, in the belief that demand for its PC client is muted and Advanced Micro Devices AMD 1.11% could pose further threat in the future.
Although the launch of Intel's Purley datacenter platform will provide a catalyst in the fourth quarter, it will likely be outweighed by failures to grow operating margins through its internet-of-things and non-volatile memory segments.
Advanced Micro Devices (Hold)
The recent launch of AMD's 14nm CPUs and continued demand for GPU, thanks to crypto-currency mining, will serve as near-term catalysts but are unlikely to drive market share gains against Intel and Nvidia.
"We continue to believe this optimism is mostly priced-in into the stock," said Chan.
Silicon Motion will benefit from and expand its lead in the turnkey client SSD controller through the 2018, but Chan rated the company's shares at Hold.
The analyst doubts the industry will see the significant improvements in NAND supply and client SSD units volume growth needed for the company to outperform the Street's estimates in the second half.
Keep up with the latest in technology news and analyst coverage in real-time with Benzinga Pro.
Can The Return Of Google Glass Fight Off Job Automation? Gene Munster Says Not For Long
Date
Firm
Action
From
To
Jul 2017
SunTrust Robinson Humphrey
Upgrades
Neutral
Buy
Jul 2017
Jefferies
Maintains
Buy
Jun 2017
Pacific Crest
Upgrades
Underweight
Sector Weight
© 2017 Benzinga.com. Benzinga does not provide investment advice. All rights reserved.
Source